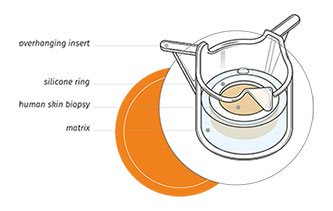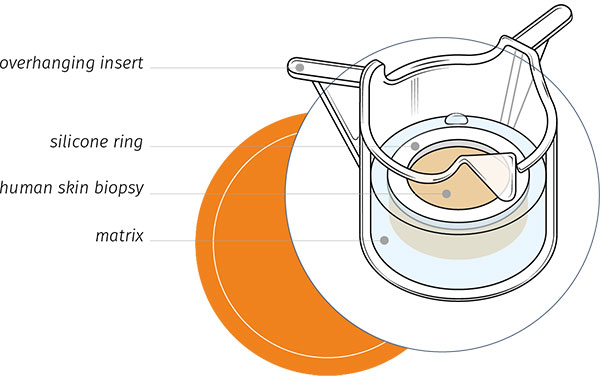 Genoskin obtains US patent for skin models
Genoskin is pleased to announce the approval of a US patent for our "system for the maintenance and survival of skin biopsies in transport and its applications". The patent describes our method to transform human skin biopsies in ready-to-use and functional ex vivo skin models.
The human skin biopsies that are used in our models are obtained with the informed consent of volunteering adults. Our innovative technology maintains the biopsies alive in ready-to-use testing kits for about a week. "Now that we've added the US patent to our list, our skin models are internationally protected," says Pascal Descargues, Genoskin's Chief Executive Officer. "The patent protects the years of research that went into our skin models for the next 20 years."
A genuine alternative to animal testing
The Genoskin testing models provide a genuine alternative to animal testing for cosmetic, chemical and pharmaceutical companies. Using human skin biopsies offers a wide range of possibilities: the Genoskin system bridges the gap between in-vitro and in-vivo tests. "It's the nearest you'll come to testing products on real human skin without ever risking to harm a patient," explains Pascal Descargues.
"Animal experiments and 3D-printed skin can't truly replicate real human skin and its chemical interactions. One of our American customers used the Genoskin test models for a product that had excellent results on mice and artificial skin. However, when he tested it on our skin models, the product couldn't get past the natural barrier of real human skin. This insight helped him avoid costly clinical trials that would never have given the results everyone was hoping for."
Increased product range and international expansion
Genoskin continuously studies new applications for human skin models. One of our recent research programs involves the creation of human skin models that contain cancerous cells. We also plan to use our technology for other types of samples, such as adipose tissue. In 2018, we even intend to open our first production unit in the United States. We have much more exciting news to come, so don't hesitate to subscribe to our newsletter if you'd like to keep updated.
Comments are closed.