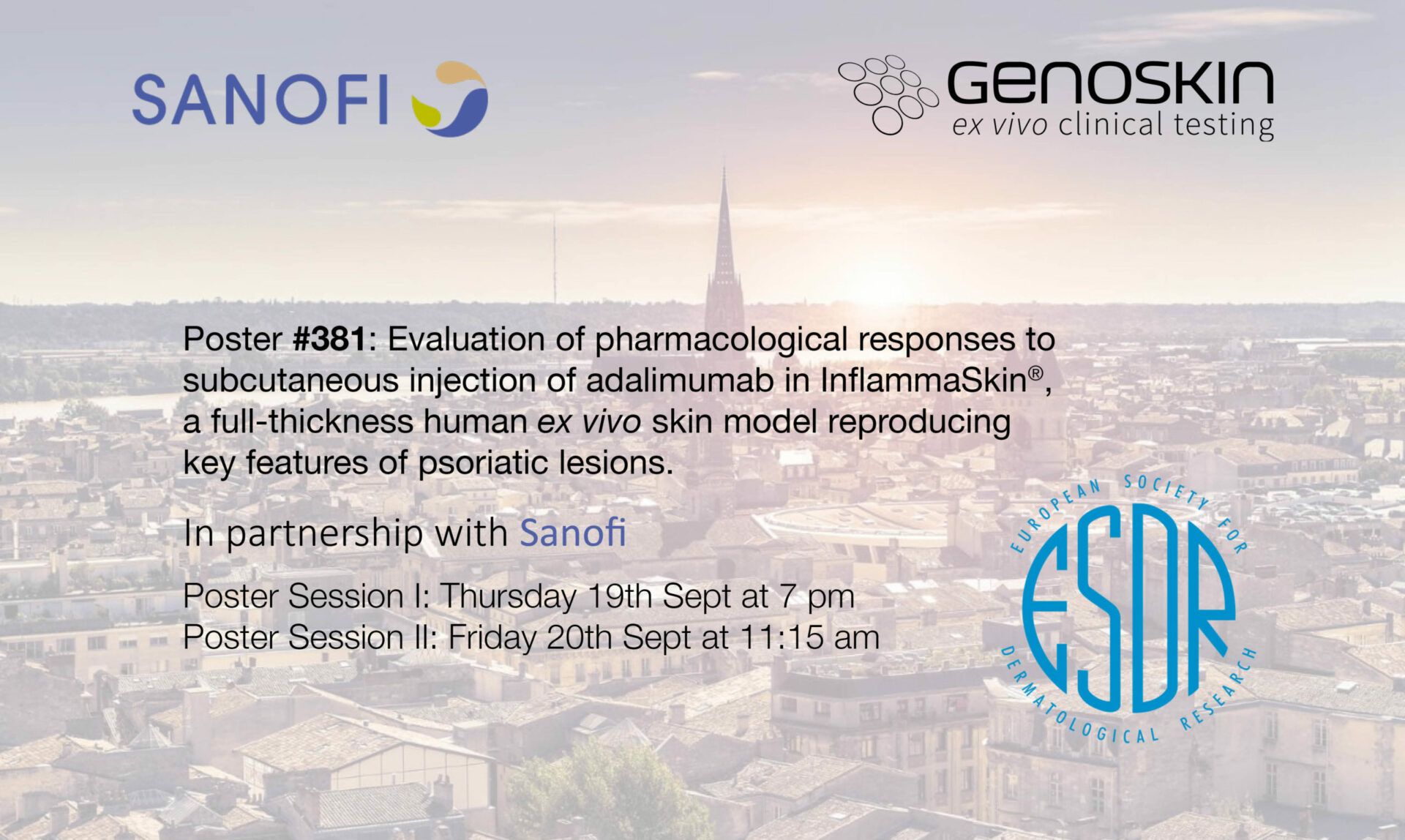 [ESDR2019] Genoskin partners with Sanofi to present Hypo-InflammaSkin®
Genoskin's team of skin experts will be presenting its latest work at the 49th ESDR Annual Meeting from September 18 to September 21 in Bordeaux, France.
To discover our latest research and innovations, meet our Project Manager and Team leader Claire Jardet, Ph.D.  on Thursday 19th at 7 pm and Friday 20th at 11:15 am in front of poster #381. This poster will be presented in partnership with Sanofi.
Hypo-InflammaSkin®, a full-thickness skin tissue assay to assess activity of subcutaneously-delivered biologics
Poster title: Evaluation of pharmacological responses to subcutaneous injection of adalimumab in InflammaSkin®, a full-thickness human ex vivo skin model reproducing key features of psoriatic lesions.
Abstract: Genoskin recently developed InflammaSkin®, a T cell-driven skin inflammation model for psoriasis based on the activation and differentiation into a Th17/Th1 phenotype of skin resident T cells. This ex vivo human skin model is composed of epidermis and dermis with or without the underlying subcutaneous tissue. In the presence of the adipose tissue, it is designed to support subcutaneous delivery of therapeutic compounds.
T-cell activation and differentiation in InflammaSkin® with or without adipose tissue led to a strong upregulation of the release of IL-17A, IL-22, IL-27, and IFNγ pro-inflammatory cytokines after 3- and 7-days culture, as well as an important loss of tissue integrity and cell viability at the histological level. Release of T cell-derived cytokines also led to overexpression of S100A7 and Keratin 16 epidermal activation marker.
To assess pharmacological response of the model to subcutaneous administration of biologics, adalimumab was injected in the fat tissue layer of the model after 3 days of in situ activation and polarization of resident T-cells. Histological analysis showed improvement of skin cells viability and partial restoration of skin structure 4 days after adalimumab delivery, as well as a strong decrease in S100A7 expression in the epidermis suprabasal layers. Furthermore, analysis of cytokine levels in culture media showed dose-dependent downregulation of IL-17A, IL-22, and IFNγ but not IL-27 release, indicating anti-inflammatory effect of therapeutic treatment with adalimumab, a well-known anti-TNF immunosuppressive monoclonal antibody.
In conclusion, we demonstrated that the InflammaSkin® model with adipose tissue successfully responds to subcutaneous injection of biologics and could become key to assess the efficacy of subcutaneously-delivered therapeutic compounds.
A study in partnership with Sanofi
This poster will present the work performed in collaboration with Sanofi (Frankfurt). Genoskin provided the InflammaSkin®  model with adipose tissue and performed the treatments with adalimumab. Once sampled by Genoskin, the biopsies were sent to Sanofi for analysis.
Genoskin will also be presented two other posters at ESDR 2019 (#234 and #662), feel free to meet our other team members there.
To learn more about our live human skin models and R&D services, swing by booth #9. Our Chief Commercial Officer, Eric Merle, and our Business Development Manager, Michael Pastore will be pleased to answer all of your questions.
Schedule a meeting with Eric and Michael at our booth during ESDR2019.
To keep up-to-date with Genoskin's latest news, follow us on Twitter and LinkedIn. You can also contact us to learn more about our products and services.
Comments are closed.