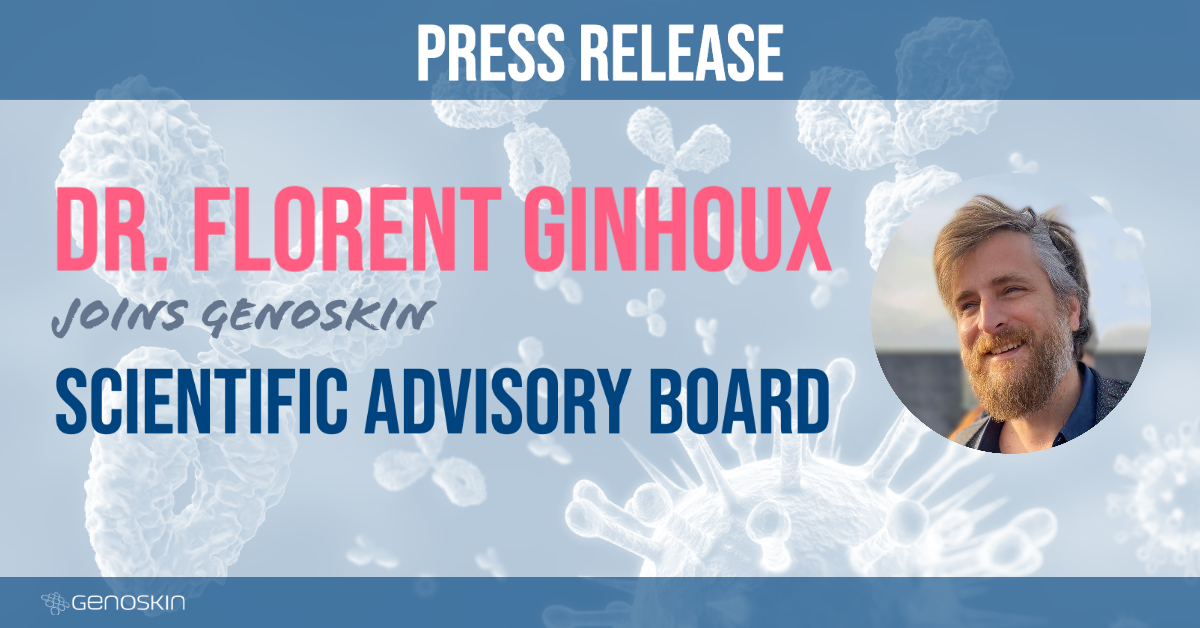 PRESS RELEASE – Toulouse, France – May 2022
Dr. Florent Ginhoux joins Genoskin's Scientific Advisory Board
Genoskin is thrilled to welcome Dr. Florent Ginhoux, PhD, to its Scientific Advisory Board (SAB). After last year's nomination of world-renowned immunology expert, Dr. Nicolas Gaudenzio, as Genoskin's CSO, Dr. Ginhoux will now bring his world-class expertise as Highly Cited Researcher in tissue-resident immune cell biology and associated pathophysiological responses to the table.
Another milestone in Genoskin's top-level science strategy
The arrival of Dr. Ginhoux marks another milestone in Genoskin's high-level science strategy and expertise in immunology. In his role as Scientific Advisor, Dr. Ginhoux will foster the development of new technologies related to high-dimensional profiling of immune response and single cell transcriptomics. He will participate in Genoskin's strategic development of human prediction platforms of drug-induced immune responses.
"We are delighted to welcome Florent to our Scientific Advisory Board," said Pascal Descargues, Genoskin's CEO & Founder. "His arrival is a valuable asset to our company's continued focus on cutting-edge science to provide biotech and pharma companies with first-in-human data in order to predict human response and secure drug development."
Dr. Florent Ginhoux obtained his PhD in 2004 from the Pierre et Marie Curie Paris VI University in France. He then joined the Laboratory of Dr. Miriam Merad in the Mount Sinai School of Medicine (MSSM) in New York as a postdoctoral fellow. At MSSM, he studied the ontogeny and homeostasis of cutaneous dendritic cell populations, with a strong focus on Langerhans cells and Microglia. In 2008, he became Assistant Professor in the MSSM Department of Gene and Cell Medicine and a member of the MSSM Immunology Institute. In May 2009, he joined the A*STAR Singapore Immunology Network (SIgN) as Principal Investigator.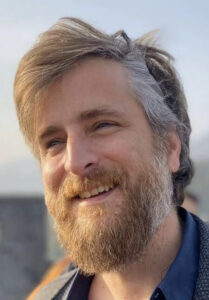 "I am very excited with my appointment to Genoskin's Scientific Advisory Board," said Florent Ginhoux. "I'm impressed by the dynamic research environment at Genoskin, which focuses on reliable and unbiased immune data collection from natural human skin. It is crucial to analyze immune cells in their native and untouched microenvironment where they form an ecosystem with surrounding structural elements."
Dr. Ginhoux has been a Highly Cited Researcher by Web of Science™, the world's most trusted publisher-independent global citation database since 2016. He has also been an Adjunct Visiting Associate Professor at the Shanghai Immunology Institute of the Jiao Tong University in Shanghai, China since 2015 as well as an Adjunct Associate Professor in the Translational Immunology Institute of SingHealth and Duke NUS in Singapore since 2018. Dr. Ginhoux is currently also starting a new laboratory in the Inserm unit 1015 of the Gustave Roussy Hospital in Villejuif, France, with a focus on paediatric cancers.
Recent Publications
Cross-tissue single-cell landscape of human monocytes and macrophages in health and disease.
Mulder K, Patel AA, Kong WT, Piot C, Halitzki E, Dunsmore G, Khalilnezhad S, Irac SE, Dubuisson A, Chevrier M, Zhang XM, Tam JKC, Lim TKH, Wong RMM, Pai R, Khalil AIS, Chow PKH, Wu SZ, Al-Eryani G, Roden D, Swarbrick A, Chan JKY, Albani S, Derosa L, Zitvogel L, Sharma A, Chen J, Silvin A, Bertoletti A, Blériot C, Dutertre CA, Ginhoux F. – Immunity. 2021 Aug 10;54(8):1883-1900.e5. doi: 10.1016/j.immuni.2021.07.007. Epub 2021 Jul 30. – PMID: 34331874
A subset of Kupffer cells regulates metabolism through the expression of CD36.
Blériot C, Barreby E, Dunsmore G, Ballaire R, Chakarov S, Ficht X, De Simone G, Andreata F, Fumagalli V, Guo W, Wan G, Gessain G, Khalilnezhad A, Zhang XM, Ang N, Chen P, Morgantini C, Azzimato V, Kong WT, Liu Z, Pai R, Lum J, Shihui F, Low I, Xu C, Malleret B, Kairi MFM, Balachander A, Cexus O, Larbi A, Lee B, Newell EW, Ng LG, Phoo WW, Sobota RM, Sharma A, Howland SW, Chen J, Bajenoff M, Yvan-Charvet L, Venteclef N, Iannacone M, Aouadi M, Ginhoux F. – Immunity. 2021 Sep 14;54(9):2101-2116.e6. doi: 10.1016/j.immuni.2021.08.006. Epub 2021 Aug 31. – PMID: 34469775
Single-cell analysis of human skin identifies CD14+ type 3 dendritic cells co-producing IL1B and IL23A in psoriasis.
Nakamizo S, Dutertre CA, Khalilnezhad A, Zhang XM, Lim S, Lum J, Koh G, Foong C, Yong PJA, Tan KJ, Sato R, Tomari K, Yvan-Charvet L, He H, Guttman-Yassky E, Malleret B, Shibuya R, Iwata M, Janela B, Goto T, Lucinda TS, Tang MBY, Theng C, Julia V, Hacini-Rachinel F, Kabashima K, Ginhoux F. – J Exp Med. 2021 Sep 6;218(9):e20202345. doi: 10.1084/jem.20202345. Epub 2021 Jul 19. – PMID: 34279540

Microbial exposure during early human development primes fetal immune cells.
Mishra A, Lai GC, Yao LJ, Aung TT, Shental N, Rotter-Maskowitz A, Shepherdson E, Singh GSN, Pai R, Shanti A, Wong RMM, Lee A, Khyriem C, Dutertre CA, Chakarov S, Srinivasan KG, Shadan NB, Zhang XM, Khalilnezhad S, Cottier F, Tan ASM, Low G, Chen P, Fan Y, Hor PX, Lee AKM, Choolani M, Vermijlen D, Sharma A, Fuks G, Straussman R, Pavelka N, Malleret B, McGovern N, Albani S, Chan JKY, Ginhoux F. – Cell. 2021 Jun 24;184(13):3394-3409.e20. doi: 10.1016/j.cell.2021.04.039. Epub 2021 Jun 1. – PMID: 3407775

Fetal mast cells mediate postnatal allergic responses dependent on maternal IgE.
Msallam R, Balla J, Rathore APS, Kared H, Malleret B, Saron WAA, Liu Z, Hang JW, Dutertre CA, Larbi A, Chan JKY, St John AL, Ginhoux F. – Science. 2020 Nov 20;370(6519):941-950. doi: 10.1126/science.aba0864. Epub 2020 Oct 29.- PMID: 33122426

About Genoskin
Genoskin is a Partner Research Organization with unique expertise in skin biology and immunology. The company helps the biotech, pharmaceutical, medical and cosmetic industries obtain reliable first-in-human data prior to clinical trials for drugs, vaccines, medical devices as well as cosmetics. To achieve this feat, Genoskin combines live human data generation platforms with hi-tech tools, unbiased data analysis and expert advice to secure drug development and help projects move forward faster.
Contact Us
Comments are closed.