Human skin to predict human skin response
To comply with market regulations, academic laboratories and industries generally test their products on skin models or skin equivalents prior to in vivo clinical trials on patients or volunteering participants.  However, even though the initial results of in vitro tests often appear promising, the end results of the final clinical trials can be disappointing, leading researchers to abandon their project at great cost.
The difference in outcome between in vitro experiments on cells or 3D skin equivalents and clinical trials may be linked to a certain number of factors, such as the maturity of the dermoepidermal barrier, immune cell presence,…. However, the difficulty to estimate real in vivo human skin response on the basis of in vitro models definitely plays a key role in the outcome of clinical trials. To reduce the failure risk of clinical trials, we propose a more predictive model for preclinical studies.
To mimic realistic human skin response, the ideal human skin model would show:

A structure that is identical to that of real human skin, with all skin cells and appendages
Typical and atypical interactions between cells to mimic skin response
Skin viability
Our biological matrix and culture medium are especially designed to maintain skin biopsies ex vivo. An MTT-assay allows us to demonstrate that tissue viability only decreases slightly when maintained ex vivo.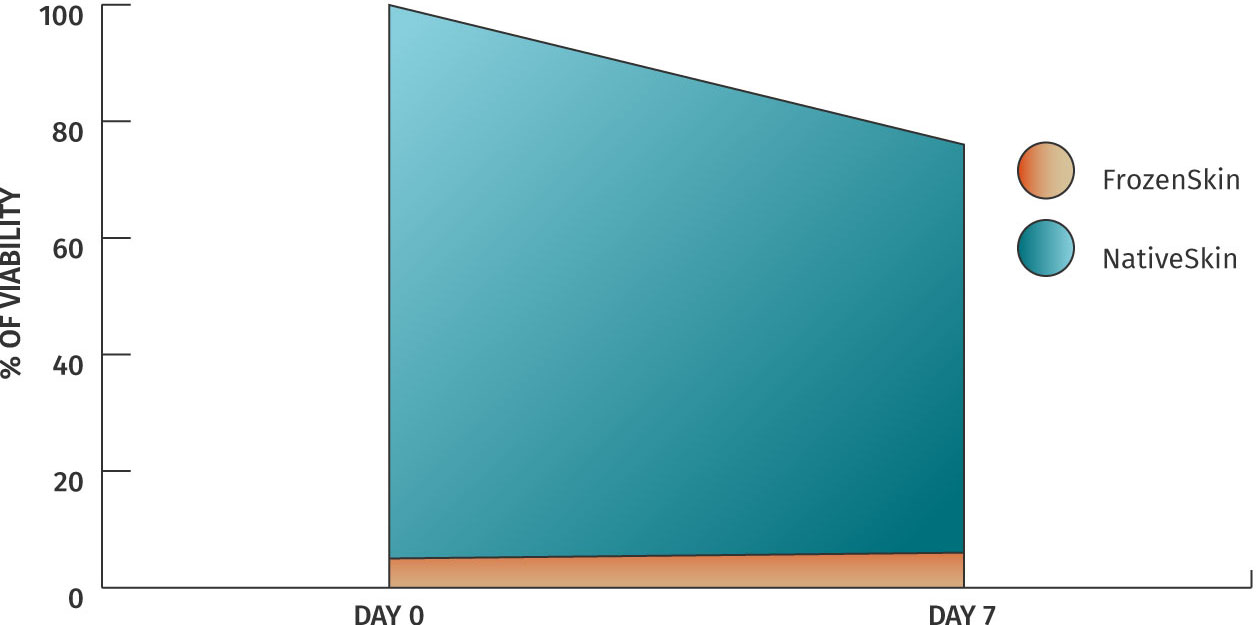 Immunostaining with PCNA also enables us to visualize cell proliferation after 7 days of culture. These illustrations demonstrate that the human skin in our model is still alive and therefore enables to efficiently study potential skin response to treatment over a longer period of time.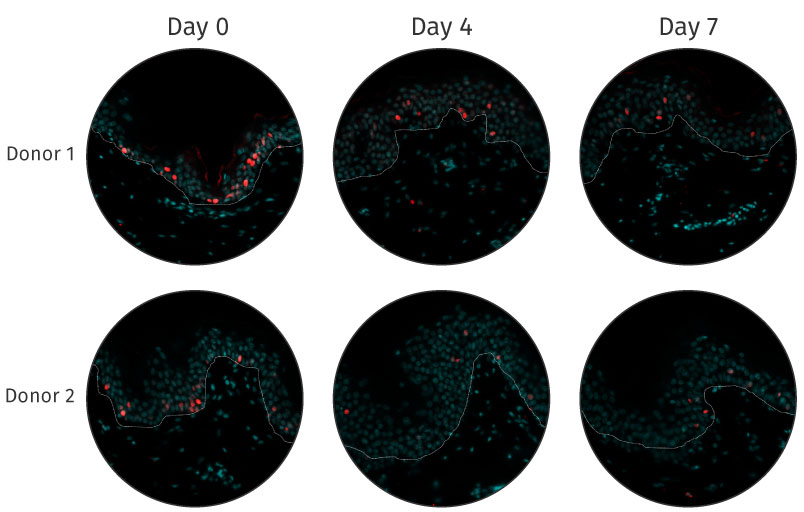 An immunocompetent skin model
Few test models offer skin structure that is fully identical to human skin and also show adequate skin barrier function. Even fewer models take into account cell interaction: they generally contain cells that are no longer viable and therefore incapable of response.The following immunostaining images demonstrate that Genoskin's patented technology maintains immunocompetent cells in vitro.
The presence of immune cells in NativeSkin models is maintained during 7 days after production
Even though cell interaction may vary from one person to another and one skin type to the next, live cell interaction remains an essential factor to estimate the true response of human skin to certain products. Nevertheless, this feature is generally absent from skin models on the market.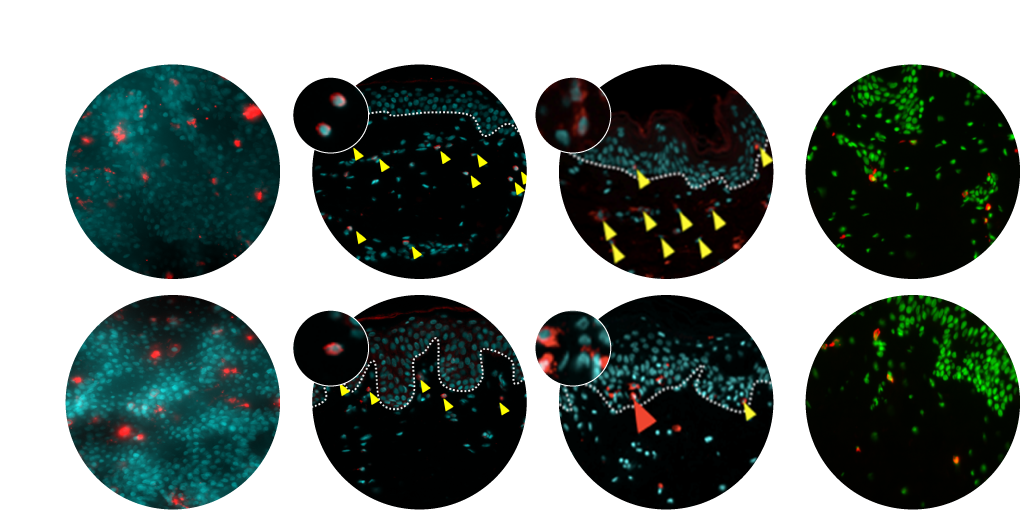 Pharmacological validation of live human skin response in NativeSkin®
Genoskin's human skin models not only hold all the cells and characteristics of real human skin, they are also able to mimic the live response of in vivo human skin. Our human skin experts have developed a high-tech matrix that nourishes excised human skin and keeps it alive for 7 days. This extra delay allows researchers and industries to study the live response of real human skin to their products for more reliable tests and results.
One of the first pharmacological validations of the NativeSkin models was performed in collaboration with LeoPharma and the results were published in the Archives of Dermatological Research in 2014 under the title: Calcipotriol counteracts betamethasone-induced decrease in extracellular matrix components related to skin atrophy.
After 7 days of culture, Genoskin's human skin models still reflect the same histological features as in vivo human skin. They currently provide the last-line screens prior to clinical testing for your products and research projects. All our skin models are obtained with the informed consent of volunteering donors.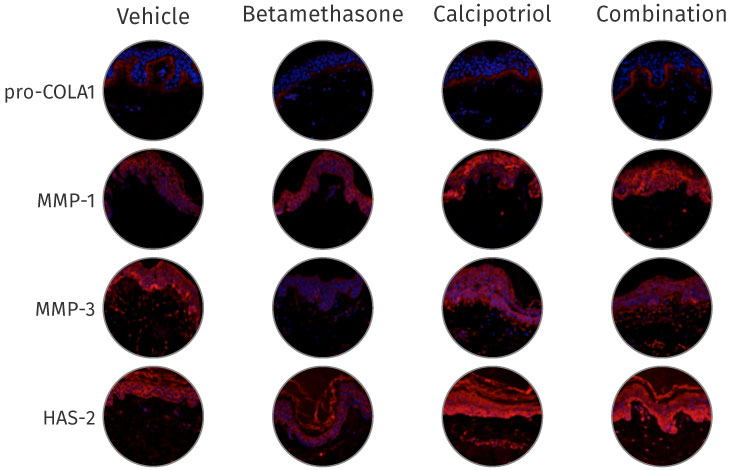 Calcipotriol counteracts betamethasone-induced decrease in ECM proteins upon topical application of the fixed combination gel in the NativeSkin human skin explant model.