Nativeskin access® live human skin models
Available for shipment across the world
The NativeSkin access® live human skin model
Get first-in-human data in your own lab

NativeSkin access® is Genoskin's only live human skin model that is available for shipment across the world. NativeSkin access® models have the same characteristics as NativeSkin® models. They are round human skin biopsies embedded in a patented matrix that keeps them alive. NativeSkin access® models help you save time and money: they are designed to simplify the culture, treatment and manipulation of human skin for research and analysis and help you obtain first-in-human data for your drug, compound or cosmetic.
Affordable
NativeSkin® access models are standardized for reproducible research on real, live human epidermis and dermis.
Research
The models are animal-free and hold the features and functionalities of in vivo human skin, with all cells and appendages.
Tools
NativeSkin® access can be ordered online as a ready-to-use kit. It is possible to select your week of delivery, sample size and donor age.
On Demand
NativeSkin access® skin models can be ordered online and shipped across the world to help you conduct in-house studies.
Ethical compliance & sourcing procedures
Legal authorizations from French & US official authorities
Approved by the Ethical Committees
Informed Consent from every donor
Secure agreements with contributing hospitals and clinics in France and in the US
Real human epidermis & dermis with all skin cells, appendages and characteristics
Maintained skin barrier function, tissue integrity, morphology and physiology
Live human skin response to your compound, drug or cosmetic
Ready to use and easy to manipulate for efficient assays
Standardized production for reproducible results
Donor information on age, gender, skin type, allergies, skin conditions and specific dermatological treatments
Safety tested for Hepatitis B, Hepatitis C, HIV 1 & 2
Unique

human data

in your own lab
Live human skin response made easy

The presence of real human epidermis and dermis in the Nativeskin access® model allows for both topical and systemic treatments. You can either add your compound directly to the culture medium to simulate systemic administration or apply it directly on the upper skin layer to simulate topical application. Whichever method you choose, administration can be repeated as often as required and for as long as the model remains viable to study skin response at different doses and/or intervals.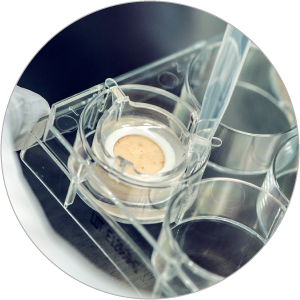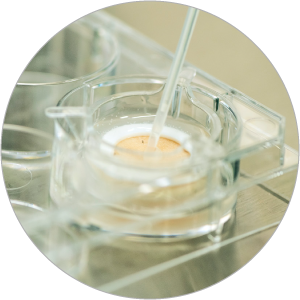 A wide range of

applications
Pick the right method to assess your drug, cosmetic or medical device

The NativeSkin access® model is suitable for a wide range of applications including preclinical efficacy and toxicity studies as well as cosmetic claim substantiation. The model is frequently used to evaluate all kinds of compounds, active ingredients and finished products, such as creams, lotions, gels… as well as medical devices, such as microneedle array patches (MAPs).
Skin delivery
Topical absorption & effects on skin metabolism
Toxicity
Compound toxicity & effects on barrier function
Wound healing
Wound healing properties & microbial colonisation
Skin microbiome*
Effects on the skin microbiome & microbial colonization
*Should you wish to use NativeSkin access® for studies on skin microbiome, please contact us and let us know prior to ordering, as this requires special preparation.
Approved study

protocols
How to analyze effects after applying your compound
Viability assay (MTT/WST-8)
Formalin fixation for paraffin embedding
OCT fixation and cryosectioning
Epidermal separation (with Dispase and heat-mediated)
H&E staining
Fontana Masson staining
Lucifer Yellow penetration
Human keratinocyte primary culture
RNA extraction
Immunofluorescence staining
Different

sizes & versions

to fit all your studies
Choose the right size for your project

Standard NativeSkin access® models are designed for skin absorption studies: they contain a white silicone ring that is firmly fixed to the skin biopsy. This silicone ring covers the outer edge of the biopsy to prevent lateral diffusion of topically applied products. A smaller version without silicone ring is also available and designed for systemic treatments and genomic readouts. Below you will find an overview of our entire range of NativeSkin access® products.
| Reference | Description | Working surface | Diameter | Recommended topical volume | ex vivo culture duration | Plate format | Required volume | Minimum order |
| --- | --- | --- | --- | --- | --- | --- | --- | --- |
| NSA08 | NativeSkin access (w/o silicone ring) | – | 8 mm | – | 7 days | 12 wells | 1mL | n.a. |
| NSA11 | NativeSkin access | 0.5 cm2 | 11 mm | 10-20uL | 7 days | 12 wells | 1mL | n.a. |
| NSA20 | NativeSkin access Large | 1.76 cm2 | 20 mm | 50-70uL | 7 days | 6 wells | 2mL | n.a. |
How to

unpack

&

cultivate

Nativeskin access®?
This video explains how to unpack your NativeSkin access® models when they arrive in your lab. NativeSkin access® models are delivered with a step-by-step user manual to help you on your way to better, more reliable first-in-human data for your drug development or cosmetic project.
Download NativeSkin access® manual
NEED A QUOTE?
Select the skin model of your choice, the desired quantity and preferred week of delivery. Please note that minimum lead time is 2 weeks after you place your order. Click on "Add to cart".
Login or register to create an account.
Go back to your cart and click the "Download your quote" button to validate your address and receive your quote in your inbox.
get a quote
READY TO ORDER?
Select the skin model of your choice, the desired quantity and preferred week of delivery. Please note that minimum lead time is 2 weeks after you place your order. Click on "Add to cart".
Login or register to create an account.
Go back to your cart and click the "Proceed to checkout" button .
Upload your Purchase Order or signed quotation at the top of the page and enter additional details (tax ID, phone number for deliveries, …)
Enter any donor restrictions you may have in the "Delivery Instructions" field,  click on "Place Order" and you're all set!
order now