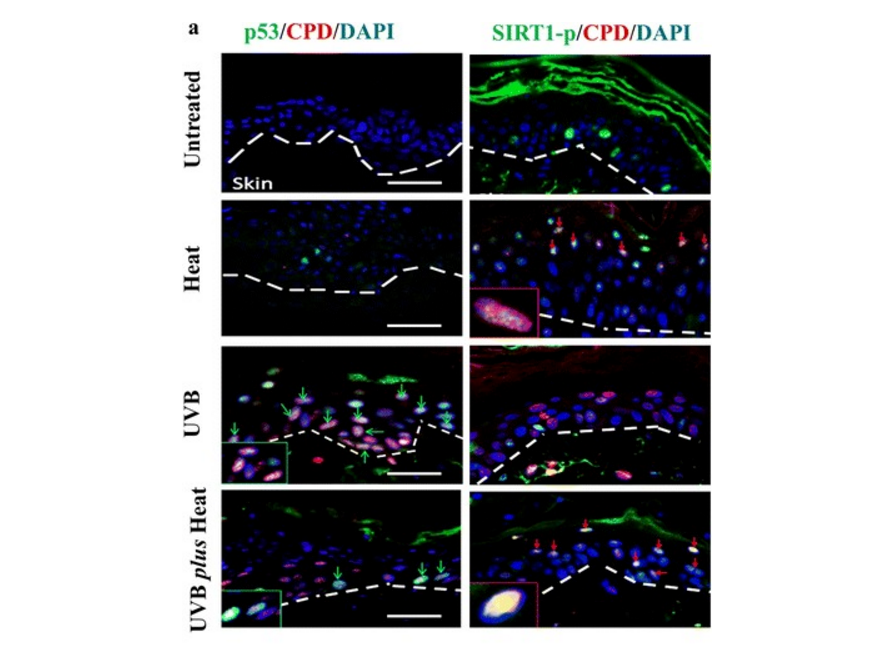 NativeSkin® successfully treated with UVB after shipment from France to Australia
May 2016. Dr. Ziman's lab. (Edith Cowan University, Perth, Western Australia) reports the successful use of NativeSkin models, shipped from France to Australia, to study skin damages induced by UVB and heat. Researchers analyzed the consequences of UVB and/or heat treatments by co-immunofluorescence staining perform on NativeSkin skin models-fixed tissue, as shown in the figure below. The results demonstrate that NativeSkin skin models treated with UVB present with Cyclobutane Pyrimidine Dimers (CPD) and up-regulate p53 expression in epidermal keratinocytes.
Interestingly, Dr. Ziman's lab. work published in BMC Dermatol suggests that "exposure to UVB and heat stress may act synergistically to allow survival of damaged cells, which could have implications for initiation skin carcinogenesis".
Heat-mediated reduction of apoptosis in UVB-damaged keratinocytes in vitro and in human skin ex vivo. Calapre L, Gray ES, Kurdykowski S, David A, Hart P, Descargues P, Ziman M. BMC Dermatol. 2016 May 26;16(1):6. doi: 10.1186/s12895-016-0043-4.
Comments are closed.