Preclinical R&D services
for skin research & testing
The right tool for your R&D project
Topical, systemic & subcutaneous delivery
To study your drug, biologic, medical device or cosmetic, we take into account its administration route to define the right tools.
Hi-tech skin models to predict clinical response
Evaluation of efficacy and toxicity using ex vivo human skin models with live human skin response.
Custom approach to move forward to clinic
From simple service offering to innovative R&D studies using state-of-the-art equipment.
Highly skilled skin experts at your service
Our highly skilled experts in human skin research ensure all your R&D respects ISO 9001 quality standards.
A full range of

preclinical R&D services

to test your product

To help you efficiently test drugs, biologics, medical devices or cosmetics, Genoskin's skin experts take into account its specifications and potential administration routes. We then select the best human skin model for your R&D project to provide you with the right study tools and obtain the high-quality data you need to help your project move forward.
Subcutaneous injection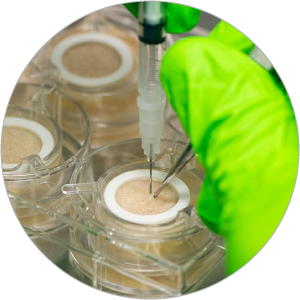 Systemic administration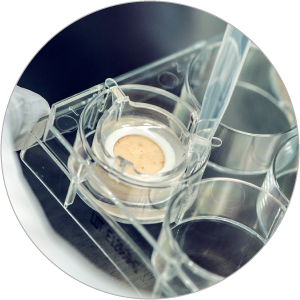 Hi-tech ex vivo human skin models to predict in vivo human skin response

Genoskin's reputation is based on the quality of the human skin models we provide. Our models use real human skin that is donated with the informed consent of the patient and kept alive for 5 to 7 days. This approach allows us to obtain real human skin response to your product and to study the effects of repeated application. All our ex vivo skin models are ready-to-use and standardized for highly reliable data during the preclinical testing phase of your product.
Some examples of what we can do for you
Case studies using Genoskin's human skin models

Three options to help you move forward
Custom preclinical R&D services that fit your needs

Before your project can be launched, Genoskin's experts design a study plan and send you a quotation. Our experts also provide scientific support throughout the study and a detailed report with qualitative and/or quantitative data analysis at the end of your study.
Option 1
Genoskin produces and treats the selected skin models and your team conducts the analysis.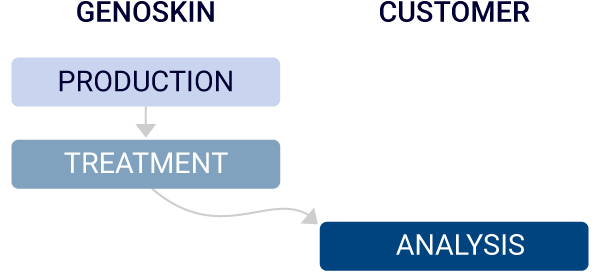 Option 2
Genoskin produces and analyzes the selected skin models while you apply the treatment.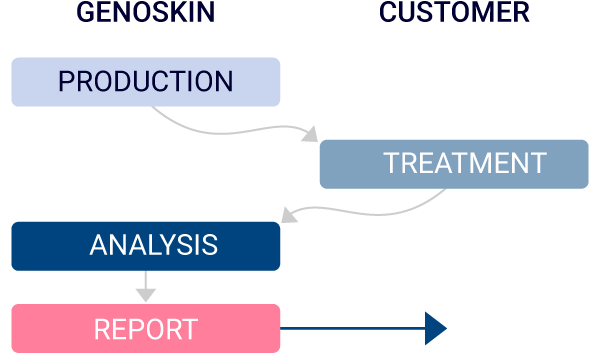 Option 3
Genoskin produces, treats and analyzes the skin models according to the study plan.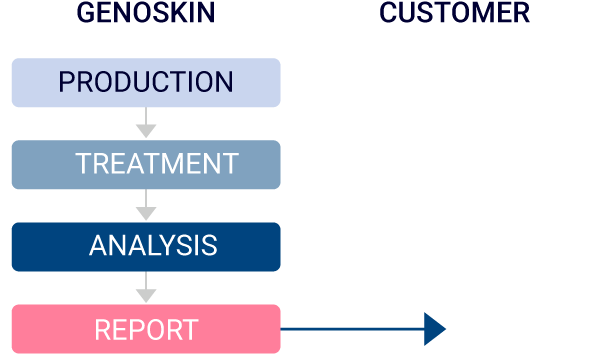 Cutting-edge facilities

&

validated protocols

for high-quality data

State-of-the-art equipment for inventive R&D projects
Fluorescence confocal microscopy
Light sheet fluorescence microscopy
Multimode microplate reader
Validated study protocols for a range of projects
Immunofluorescence assays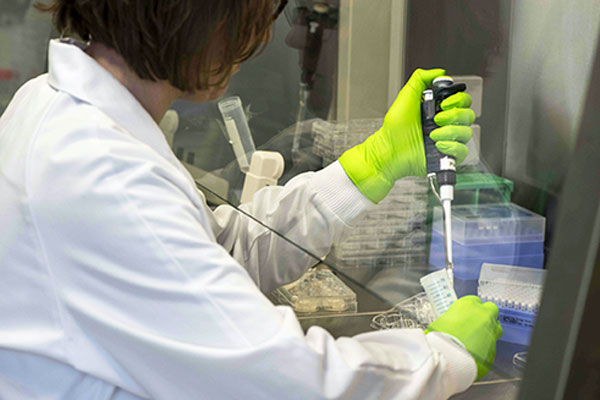 Highly skilled experts

in human skin research at your service
Genoskin stands for a driven team of experienced scientists, a lot of whom hold a PhD. The company is ISO9001:2015 certified to vouch for our high-quality standards. Our skin experts provide innovative solutions to help the R&D projects of our industrial and academic partners move forward.