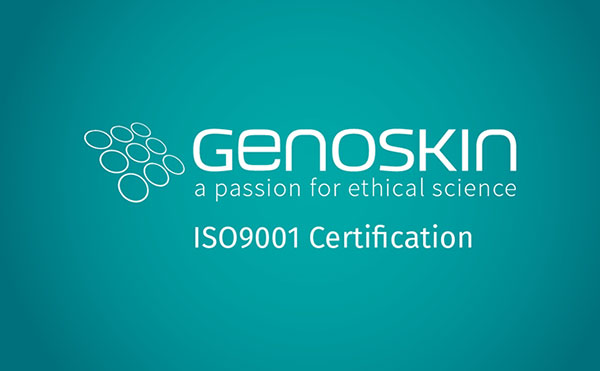 Genoskin obtains ISO9001 certification
The entire Genoskin team is proud to announce that we obtained the ISO9001:2015 certification in January 2017. This certificate validates the quality and consistency of our design and R&D services as well as the commercialization of human skin models, cells and tissues to pharmaceutical, chemical and cosmetic industries.
Consistent quality for skin models and R&D programs
The ISO9001 certification validates the quality and consistency of our skin models and R&D programs. "The Genoskin management consistently steered the quality policy," according to Quality Consultant Sylvain Bonzom. "They still had the option to choose the ISO9001:2008 certification but opted for ISO9001:2015, even though requirements are more demanding, especially when it comes to risk management."
"Genoskin is the first biotechnology company in the area to obtain the ISO9001:2015 certification" says Mr Bonzom. "This confirms their position as a trustworthy preclinical research partner for customers developing new drugs and products that need to be tested on human skin."
A team focused on progress
"I'm very proud of the Genoskin team for their implication in this prestigious certification," adds Pascal Descargues, the Genoskin CEO. "In 2017, we plan to speed up our expansion and start up a division in Boston. Quality is the key to our success." This year promises to be a very interesting year for Genoskin. We have a lot of new projects coming up, so don't hesitate to subscribe to our newsletter to learn more.
Comments are closed.