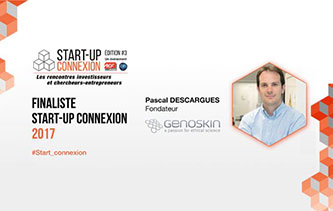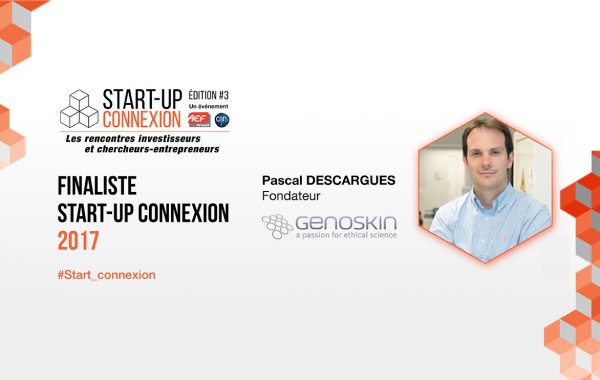 On February 3, 2017, Genoskin was awarded a finalist spot in the third edition of the Start-up Connexion Contest.
This event brings together innovative research companies and potential investors to highlight and finance projects with high economic value.
The Start-up Connexion Contest is a combined initiative of the CNRS (French National Center for Scientific Research) and the AEF Media Group, which specializes in research journalism and publications. The contest's goal is to detect innovative projects of high economic value in order to promote and finance valuable start-ups that have their origin in academic research.
Genoskin originates from a research project on alternatives to animal testing at the CNRS and the Paul Sabatier University in Toulouse, France. Our specific know-how and patented technology help us transform donated human skin from plastic surgery into reliable and ready-to-use skin testing models. The goal of our products is to predict human skin response to medication, chemicals, active ingredients and medical devices.
"We're very proud of our place in the finals and would also like to congratulate our fellow finalists, i.e. Abbelight, ACS Biotech, Biopic, Casis, Daumet, Grasp and Inorevia," says Pascal Descargues, Chief Executive Officer at Genoskin. All 8 finalists originally stem from academic research projects. They will be professionally coached and benefit from a special training in industrial property issues.
The final selection will take place at the RUE 2017 professional fair of Higher Education, Research and Innovation in Paris on March 17, 2017. The finalists will present their projects to a panel of academic professionals, investors and managers from large research and innovation companies. They will also have an allocated time span to network with potential investors and industrials. At the end of the event, one of the finalists will receive the special Jury award.
2017 promises to be an exciting year for Genoskin, with many new projects to come. Don't hesitate to subscribe to our newsletter to keep up to date.
Comments are closed.