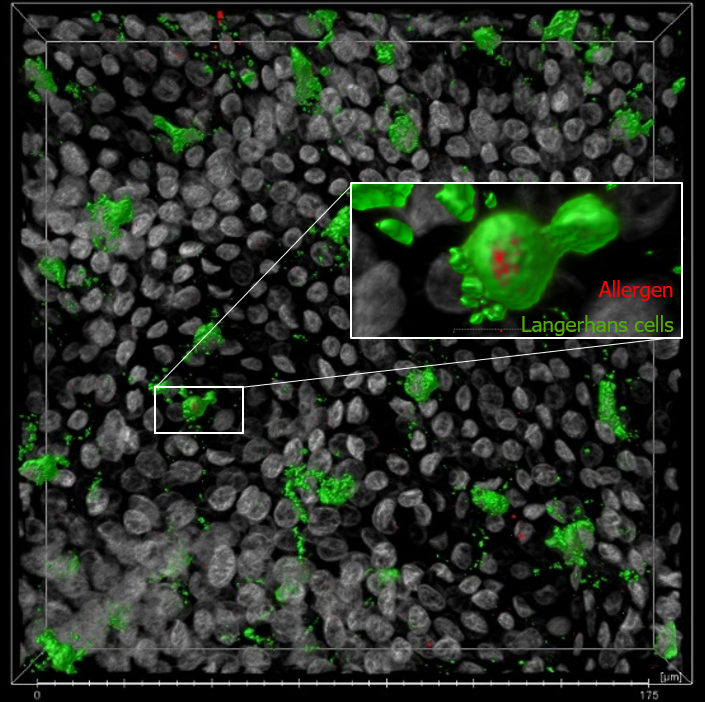 DBV Technologies' epicutaneous immunotherapy tested using NativeSkin® ex vivo human skin
Latest results to be presented at the AAAAI/WAO Joint Congress in Orlando
The poster "Epicutaneous immunotherapy with peanut directly targets Langerhans cells in human skin" (n° 723, session  4204) will be presented at the American Academy of Allergy, Asthma & Immunology (AAAAI)/World Allergy Organization (WAO) Joint Congress in Orlando, Florida on March 2-5, 2018. This meeting brings together thousands of leading allergists/immunologists and allied health and related healthcare professionals from all around the world. The scientific abstract is available online.
A collaborative project between Genoskin and DBV Technologies
NativeSkin® is an ex vivo human skin model holding all the cells and appendages of in vivo human skin. In particular, Genoskin's model enables to maintain immune cells 7 days in culture, thus making it an excellent tool to study the response of functional human Langerhans cells. Allergens applied on the skin during epicutaneous immunotherapy has been shown to induce tolerance in sensitized mice through an uptake by Langerhans cells (1). In a collaboration with the biotech company DBV Technologies, NativeSkin® was used to determine whether a similar allergen uptake occurs in vitro in human skin.
Allergen uptake in NativeSkin® following Viaskin® patch application
Viaskin® patches against peanut allergy were loaded with fluorescein-tagged allergen and applied on NativeSkin® models. Using fluorescence imaging techniques on two donors, we observed that the allergen reached the epidermal layer, interacted with and was internalized by Langerhans cells. Other analysis including mRNA expression of cytokines in NativeSkin® model will be presented on the poster at the AAAAI/WAO meeting.
About DBV Technologies 


DBV Technologies (Euronext: DBV –ISIN: FR0010417345 –Nasdaq Stock Market: DBVT) is a French biopharmaceutical company which aims to develop safe, effective and patient-friendly therapies for food allergy. DBV has developed Viaskin® patch technology, a proprietary technology platform to deliver biological compounds via intact skin. Viaskin® patches are used for EPicutaneous ImmunoTherapy, EPIT®. By targeting Langerhans cells present in human skin, EPIT® has the potential to induce an immune reaction and promote sustained allergen tolerization. Viaskin® patches are currently evaluated in clinical trials. Positive Phase II Study results were recently achieved with a patch against milk allergy.
References
(1) Dioszeghy V, Mondoulet L, Dhelft V, Ligouis M, Puteaux E, Benhamou PH, Dupont C. Epicutaneous immunotherapy results in rapid allergen uptake by dendritic cells through intact skin and downregulates the allergen-specific response in sensitized mice. J Immunol. 2011, 186(10):5629-37.
Comments are closed.