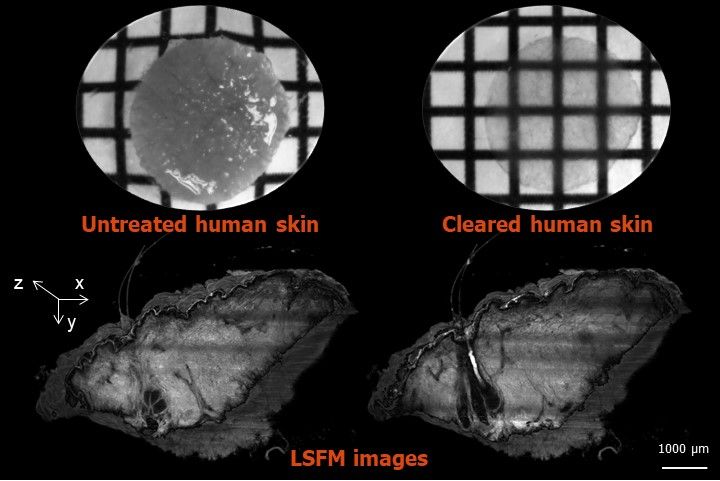 3D imaging of cleared ex vivo human skin using light-sheet fluorescence microscopy
The study was a collaborative project with Syntivia and The Institute for Advanced Technology in Life Sciences (ITAV).
A promising approach for non-invasive imaging of human skin biopsies
Human skin is rich in endogenous fluorophores that can be used as a source of optical contrast. However, 3D imaging of the entire skin tissue is hampered by the fact that the skin is an opaque organ which does not let the light passing through. Light-Sheet Fluorescence Microscopy (LSFM) has emerged as an attractive approach to allow in-depth optical sectioning of thick tissue such as human skin. In addition, optical clearing techniques with chemicals have been developed to render tissues transparent for microscopy. In this study LSFM was combined with a clearing technique to image entire human skin biopsies with subsequent software processing enabling 3D images with high resolution.
New perspectives for dermatological research and active compound testing
This innovative technique permits rapid characterization of normal human skin morphology. In particular, 3D volume reconstruction of skin appendages including sweat glands, sebaceous glands, hair follicle bulbs and blood vessels can be performed both at the macroscopic and cellular levels. Importantly, this approach can also be applied to analyze morphological changes associated with skin pathologies such as epidermal hyperplasia evidence found in psoriasiform skin lesions.
Below you'll find the abstract of the full study, which can be found on the CNBI website under the following title:
3D imaging of cleared human skin biopsies using light-sheet microscopy: A new way to visualize in-depth skin structure.
Abadie S1,2, Jardet C3, Colombelli J4, Chaput B5, David A3, Grolleau JL5, Bedos P1, Lobjois V2, Descargues P3, Rouquette J2.
1Syntivia, Toulouse, France.
2ITAV, Université de Toulouse, CNRS, Toulouse, France.
3Genoskin, Toulouse, France.
4Advanced Digital Microscopy, Institute for Research in Biomedicine (IRB Barcelona), The Barcelona Institute of Science and Technology, Barcelona, Spain.
5Service de chirurgie plastique et reconstructrice, CHU de Toulouse Rangueil, Toulouse, France.
Skin Res Technol. 2018 Jan 27. doi: 10.1111/srt.12429.
BACKGROUND:
Human skin is composed of the superimposition of tissue layers of various thicknesses and components. Histological staining of skin sections is the benchmark approach to analyse the organization and integrity of human skin biopsies; however, this approach does not allow 3D tissue visualization. Alternatively, confocal or two-photon microscopy is an effective approach to perform fluorescent-based 3D imaging. However, owing to light scattering, these methods display limited light penetration in depth. The objectives of this study were therefore to combine optical clearing and light-sheet fluorescence microscopy (LSFM) to perform in-depth optical sectioning of 5 mm-thick human skin biopsies and generate 3D images of entire human skin biopsies.
MATERIALS AND METHODS:
A benzyl alcohol and benzyl benzoate solution was used to successfully optically clear entire formalin fixed human skin biopsies, making them transparent. In-depth optical sectioning was performed with LSFM on the basis of tissue-autofluorescence observations. 3D image analysis of optical sections generated with LSFM was performed by using the Amira® software.
RESULTS:
This new approach allowed us to observe in situ the different layers and compartments of human skin, such as the stratum corneum, the dermis and epidermal appendages. With this approach, we easily performed 3D reconstruction to visualise an entire human skin biopsy. Finally, we demonstrated that this method is useful to visualise and quantify histological anomalies, such as epidermal hyperplasia.
CONCLUSION:
The combination of optical clearing and LSFM has new applications in dermatology and dermatological research by allowing 3D visualization and analysis of whole human skin biopsies.
Comments are closed.