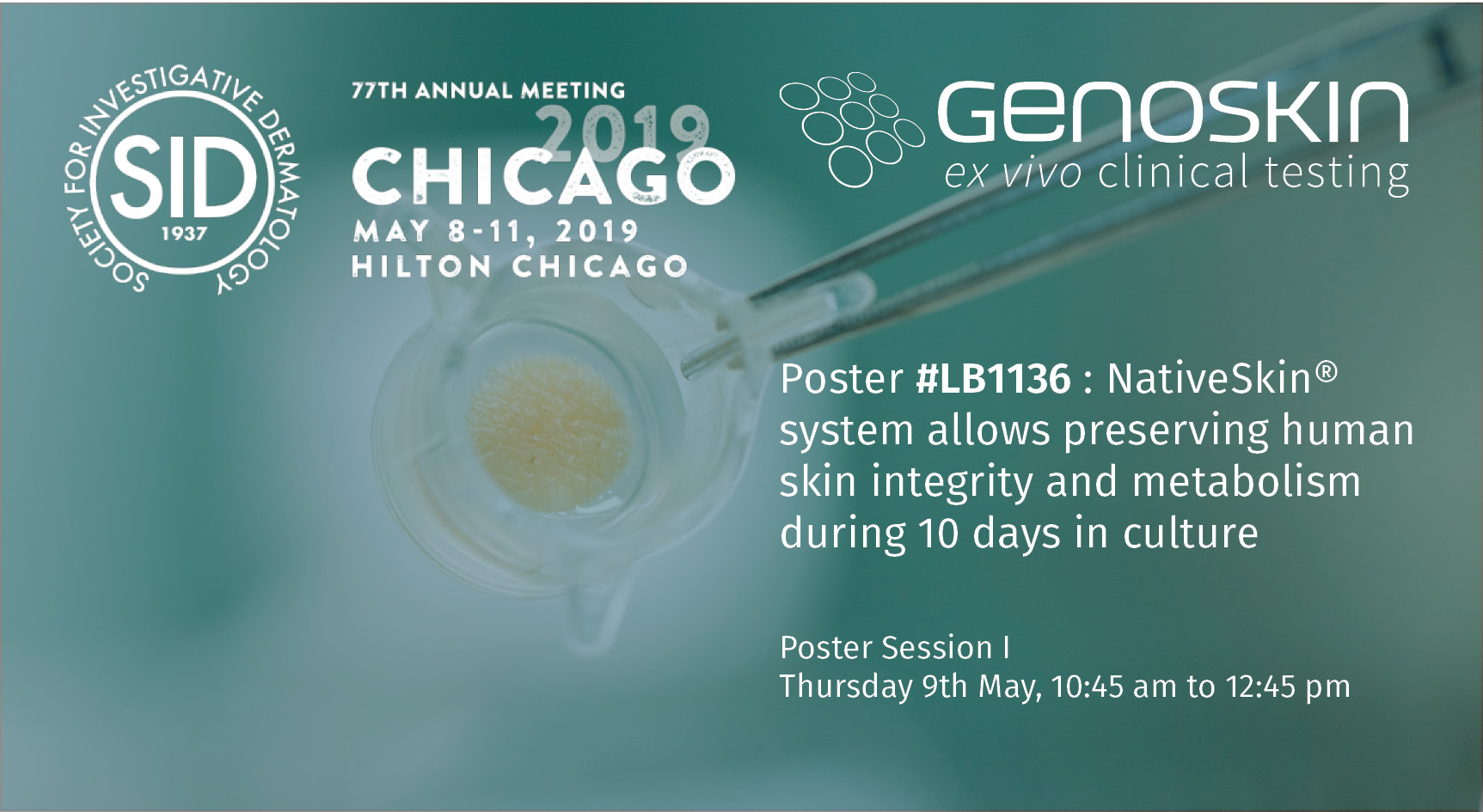 SID2019: Genoskin validates skin integrity and metabolism at 10 days with Promega Glucose-Glo™ and Lac­tate-Glo™ Assays
Genoskin's team of skin experts will be presenting its latest work at the 77th SID Annual Meeting from May 8 to May 11 in Chicago.
To learn more about our live human skin models and R&D services, swing by booth #106. Our Chief Commercial Officer, Eric Merle and our Business Development Manager, Michael Pastore will be pleased to answer all your questions.
To discover our latest research and innovations, meet Eric on Thursday 9th, from 10h45 to 12h45 in front of poster #LB1136. This poster will be presented in partnership with Promega.
NativeSkin®, human skin integrity and metabolism preserved for 10 days
Poster title: NativeSkin® system allows preserving human skin integrity and metabolism during 10 days in culture
Abstract: It is known that the main bioenergetic pathway in skin is the anaerobic glycolysis. Thus, glucose consumption and a high production of lactate are a proof of an active metabolism in skin. This has never been demonstrated in an ex vivo human skin model before.
NativeSkin® is an ex vivo human skin model, composed of the two upper skin layers. The skin explant is embedded in a proprietary gel-like matrix with epidermal surface left in direct contact with the air. The system is mounted into cell culture inserts and maintained in standard cell culture conditions. This model represents a highly predictive and cost-effective last-line screening tool in laboratory conditions prior to in vivo clinical evaluations.
Histological analysis of the NativeSkin® model showed preserved tissue integrity for up to 10 days of culture. WST-8 assays showed a cell viability of about 64% after ex vivo culture compared to skin just after surgery. Cell proliferation and apoptosis were quantified in the epidermis. Ki67 was still expressed (3,9% of positive nuclei after 10 days compared to 10% at Day 0), and a low level of active Caspase 3 was visible.
Dosing of two main metabolites, glucose and lactate, were performed on both culture media and skin biopsies after 10 and 20 days of culture. Results showed active metabolism in the NativeSkin® model still after 10 days of culture, with an important glucose consumption (58% of fresh medium glucose consumed) in parallel of a high production of lactate.
In conclusion, we demonstrated the feasibility to maintain skin biopsies alive for up to 10 days, with a preserved tissue integrity, a good cell viability and proliferation, and active metabolism. These results, taken with results previously published on NativeSkin® models, underly that NativeSkin® is a relevant model to study drug penetration and metabolization after repeated topical application during 10 days.
A study in partnership with Promega
We used Promega bioluminescent NADH assays, Glucose-Glo™ and Lac­tate-Glo™ Assays to demonstrate that the skin metabolism of NativeSkin® at 10 days is comparable to fresh skin. Dosing were performed following protocols recommended by Promega.
Genoskin will be presenting two other posters (#LB1134 and #LB1138) at the same place and time, feel free to come.
Should you like to join Eric and Michael at SID2019, please let us know.
To keep up-to-date with Genoskin's latest news, follow us on Twitter and LinkedIn or subscribe to our newsletter. You can also contact us to learn more about our activities and services.
Comments are closed.