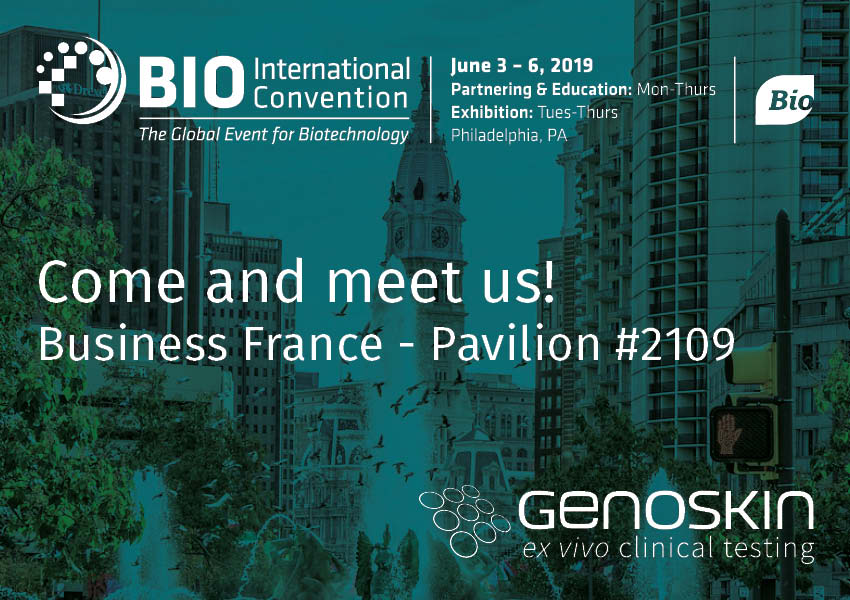 Genoskin will attend the BIO International Convention in Philadelphia, PA
The BIO International Convention is a global event regrouping biotech and pharma leaders over intensive networking. The convention is a great opportunity to discuss a wide spectrum of life science and application areas including drug discovery, bio manufacturing, genomics, biofuels, nanotechnology or cell therapy. This year more than 16,000 attendees are expected, coming from 67 countries and more than 7,000 companies will exhibit their latest innovations.
Meet our team
From June 3 to June 6, come and meet our CEO, Pascal Descargues and our Chief Commercial Officer, Eric Merle at the French pavilion (Booth #2109). Our team of skin experts will be happy to let you know all about its latest innovation on our unique, standardized and ready-to-use ex vivo human skin models. To secure your slot beforehand, don't hesitate to contact us.
Discover our unique ex vivo human skin models
Genoskin's team will be pleased to help you find an ex vivo skin model suited to your needs. NativeSkin® will be perfectly fitted to test the response of real human skin to topical application or systemic admistration of your compound. Our last hi-tech model, HypoSkin® complete the range by allowing you to test the efficacy and toxicity of subcutaneously administered drugs.
To keep up-to-date with Genoskin's latest news, follow us on Twitter and LinkedIn or subscribe to our newsletter. You can also contact us to learn more about our activities and services.
Comments are closed.