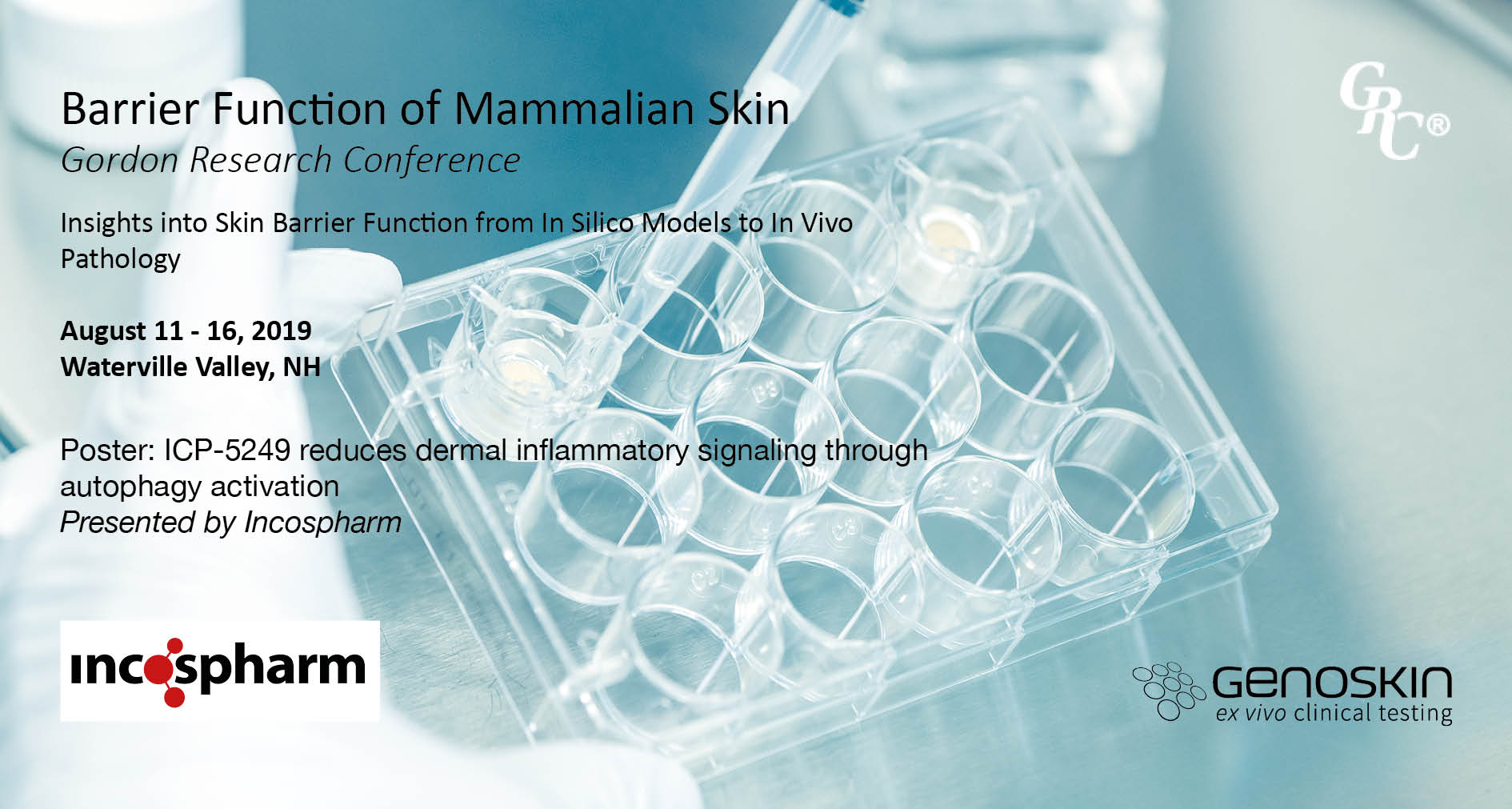 InflammaSkin® application presented by Incospharm at the Gordon Research Conference (GRC) on Barrier Function of Mammalian Skin
Incospharm is presenting a poster showing one application of our live human psoriasis model, InflammaSkin® at the GRC held in New Hampshire from August 11th to August 16th.
InflammaSkin®, testing of innovative anti-inflammatory drugs
Poster title: "ICP-5249 reduces dermal inflammatory signaling through autophagy activation"
Incospharm develops autophagy-based peptides and non-peptide active ingredients for anti-wrinkle, moisturizing, anti-oxidant and brightening of the skin purposes. The aim of this study was to assess the anti-inflammatory activity of autophagy activator ICP-5349. In order to achieve that, in addition to in vitro experiments, Incospharm performed an ex vivo study on InflammaSkin®. With our psoriasis model, Incospharm was able to demonstrate a reduction of IL-22 by ICP-5249 treatment. They were also able to demonstrate the reduction of proliferating cells (Ki67), immune cells infiltration (CD4, and CD8-positive cells), as well as IL-17A expression in ICP-5249, treated tissue.
About the Gordon Research Conference (GRC)

For the last 30 years, the Barrier Function of Mammalian Skin GRC has focused on scientific topic broadly related to furthering our understanding of the processes which underline skin barrier function in health and disease. The conference brings together a large community of students, scientists, clinicians and engineers who share their most recent insights and understanding of skin barrier science. The GRC is also a great opportunity to develop new partnerships with the aim of improving skin.
To keep up-to-date with Genoskin's latest news, follow us on Twitter and LinkedIn. You can also contact us to learn more about our products and services.
Comments are closed.