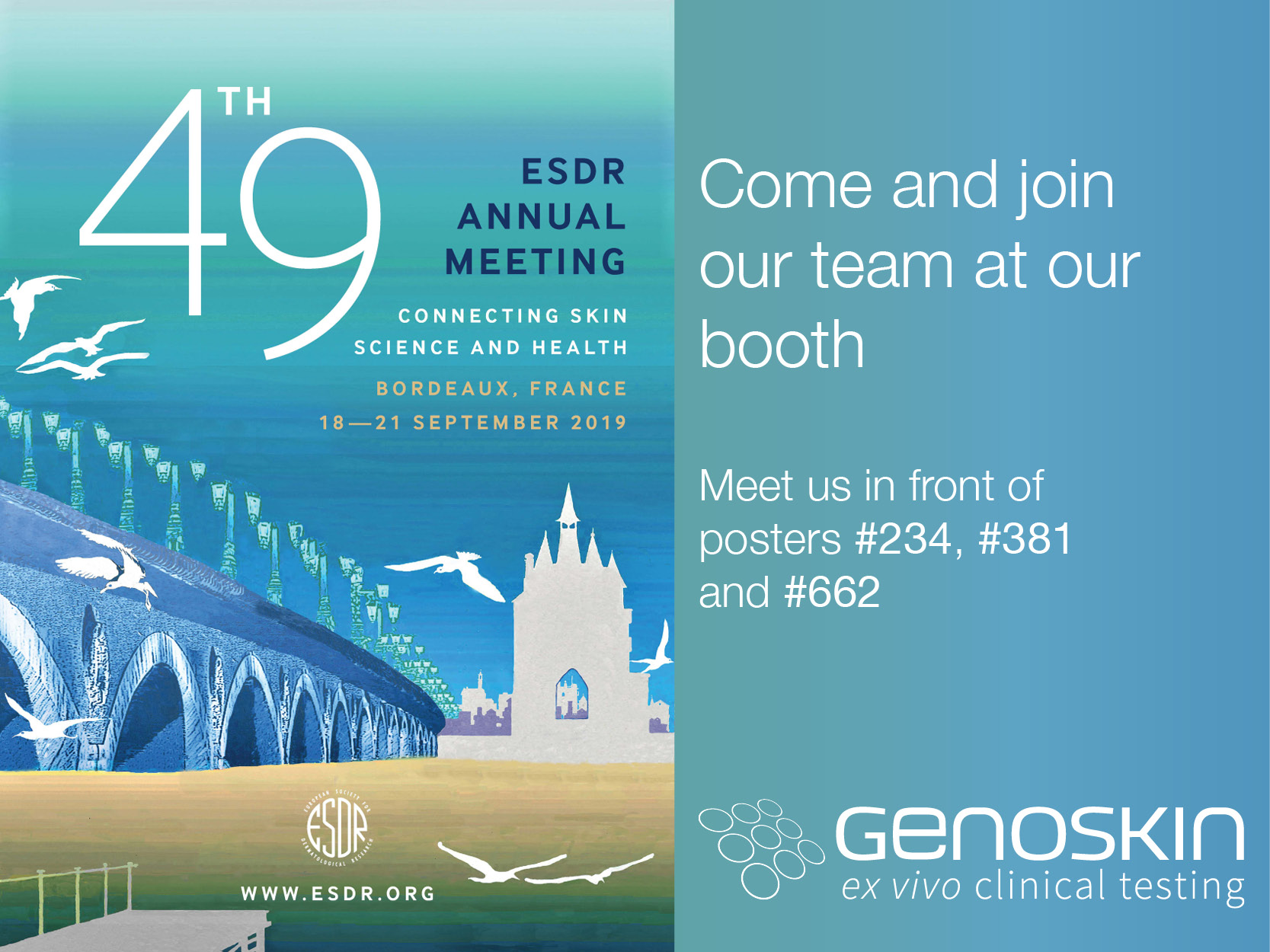 Genoskin to exhibit at the 49th Annual Meeting of the European Society for Dermatological Research (ESDR 2019)
The 44th Annual Meeting of the European Society for Dermatological Research (ESDR 2019) strives to provide a world-leading platform for the presentation and discussion of state-of-the-art science as it relates to skin biology and investigative dermatology.
From September 18th to September 21st, meet our Chief Commercial Officer, Eric Merle and Business Development Manager, Michael Pastore at booth #9 in Bordeaux Congress Centre in France. They will be thrilled to help your skin research project move in the right direction.
The Genoskin dedicated team will also be presenting three posters about our latest research:
WoundSkin®, a new ex vivo wound healing assay
Poster title: "Bacterial infection and wound healing in an ex vivo human skin model", (Poster #662, presented by Project Manager, Emeline Pagès, Ph.D. in partnership with IEMN). Treating chronic wounds appears to be still quite challenging. With the help of  HypoSkin® technology, Genoskin developed a new injectable infected wounded assay designed to evaluate the efficacy of wound-healing formulations.
NativeSkin® preserves skin integrity and metabolism for 10 days
Poster title: "Preservation of human skin integrity and metabolism during 10 days in culture with NativeSkin® system", (Poster #234, presented by Michael, in partnership with Promega). NativeSkin®, an ex vivo live human skin assay, can be kept alive for up to 10 days. After 10 days of culture, skin tissue integrity is still preserved, we can observe good cell viability and proliferation. The biopsies also show an active metabolism for 10 days. These features make NativeSkin® a relevant model to study drug penetration and metabolization after repeated topical application.
Hypo-InflammaSkin®, an injectable model to assess the efficacy of subcutaneously delivered anti-inflammatory treatment
Poster title: "Evaluation of pharmacological responses to subcutaneously-injection of adalimumab in InflammaSkin®, a full-thickness human ex vivo skin model reproducing key features of psoriatic lesions", (Poster #381, presented by Project Manager, Claire Jardet, Ph.D., in partnership with Sanofi Germany). Genoskin recently developed InflammaSkin®, a T cell-driven skin inflammation model for psoriasis. In the presence of adipose tissue, this assay is designed to assess the efficacy of subcutaneously-delivered therapeutic compounds.
This next ESDR Annual Meeting will foster a culture where over 1,000 scientists and clinicians can get together, exchange ideas and form new collaborations in a stimulating environment.
Should you like to join Eric and Michael on our booth at ESDR 2019, please let us know.
To keep up-to-date with Genoskin's latest news, follow us on Twitter and LinkedIn. You can also contact us to learn more about our products and services.
Comments are closed.