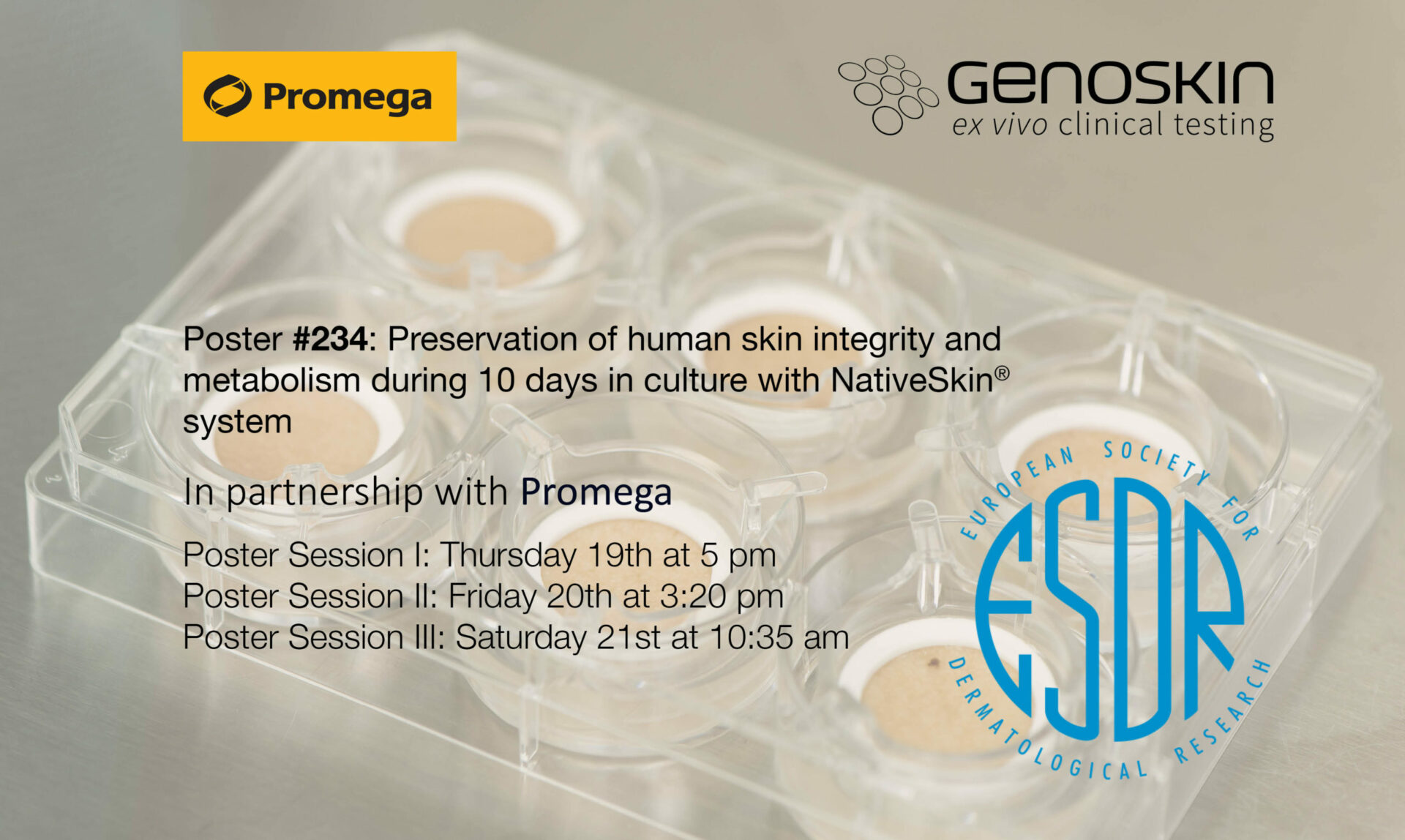 [ESDR2019] New data on Genoskin's NativeSkin® in collaboration with Promega
The 49th ESDR Annual Meeting is approaching. In less than two weeks, our team will be presenting our latest research in Bordeaux, France.
To learn more about our latest work on NativeSkin®, come meet Dr. Michael Pastore, Genoskin Business Development Manager, on Thursday 19th at 5 pm, Friday 20th at 3:20 pm and Saturday 21st at 10:35 am in front of poster #234. This poster will be presented in partnership with Promega.
NativeSkin® enables preserved skin metabolism and integrity for 10 days
Genoskin presented earlier this year, at SID2019, how NativeSkin® was able to maintain human skin integrity and metabolism during 10 days of culture. Our team of skilled researchers demonstrated through histological analysis that tissue integrity was preserved in NativeSkin® for up to 10 days of culture.
To assess NativeSkin® functioning metabolism, Genoskin scientists performed dosing of the two main metabolites, glucose and lactate with Promega Glucose-Glo™ and Lactate-Glo™ bioluminescent NADH assays. Dosing was performed per Promega protocol.  This study showed an important consumption of glucose paired with a high production of lactate in NativeSkin® after 10 days. This demonstrates the active metabolism in NativeSkin® for up to 10 days.
Promega / Genoskin collaboration yields new data on NativeSkin® metabolism
Recently, Genoskin further demonstrated that NativeSkin® model remains functional for up to 10 days. ROS concentrations were measured using Promega's ROS-Glo™ H2O2 Assay. Data showed normal ROS concentration for 10 days in our skin models.
Genoskin will also be presenting two other posters at ESDR 2019 (#381 and #662), feel free to meet our other team members there.
To learn more about our live human skin models and R&D services, swing by booth #9. Our Chief Commercial Officer, Eric Merle, and our Business Development Manager, Michael Pastore will be pleased to answer all of your questions.
Schedule a meeting with Eric and Michael at our booth during ESDR2019.
To keep up-to-date with Genoskin's latest news, follow us on Twitter and LinkedIn. You can also contact us to learn more about our products and services.
Comments are closed.