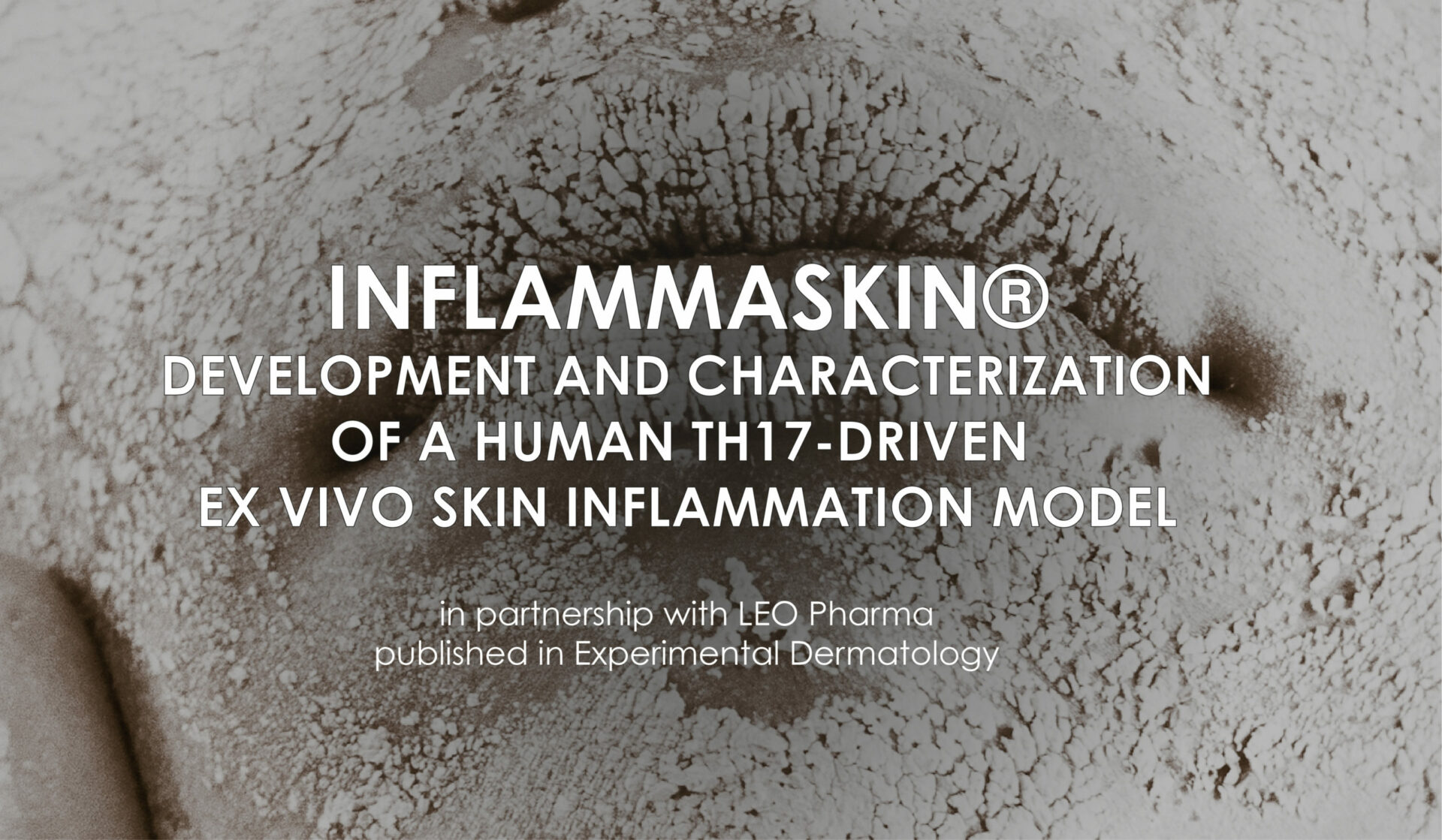 Genoskin & LEO Pharma publish data on inflammation model InflammaSkin® in Experimental Dermatology
Genoskin's amazing team of experts is always developing new and improved ex vivo human skin assays. This time, we partnered with LEO Pharma to develop a brand new inflammation model: InflammaSkin®. Genoskin is proud to announce that its unique skin assay is now fully described in Experimental Dermatology. Read the full article online to learn more.
InflammaSkin®: a unique psoriasis skin assay
InflammaSkin® is the only ex vivo human psoriasis model T cell-driven with a Th17/Th1 phenotype. In this model, skin-resident T cells are in situ activated by intradermal injection of anti-CD3 and anti-CD28 antibodies and Th17 cell polarization is sustained by culture in a chemically defined medium supplemented with IL-1b, IL-23 and TGF-b.

InflammaSkin® is available as an in-house service. It can be used to assess prophylactic and therapeutic treatments. Genoskin evaluates anti-inflammatory response to anti-psoriasis drugs after topical treatments, systemic treatment, or subcutaneous injection.
Characterization of the InflammaSkin® model
The acquired Th17 signature is demonstrated by the sustained secretion of IL‐17A, IL‐17AF, IL‐17F, IL‐22, IFN‐γ, and to some degree IL‐15 and TNF‐α observed in the activated ex vivo skin inflammation model compared with the non‐activated skin model control. Furthermore, expression of S100A7 and Keratin‐16 by keratinocytes and loss of epidermal structure integrity occur subsequently to in situ Th17cell activation, demonstrating cellular crosstalk between Th17 cells and keratinocytes.
Response of InflammaSkin® to topically applied anti-inflammatory drugs
Genoskin demonstrated the use of this model to investigate the modulation of the IL‐23/IL‐17 immune axis by topically applied anti‐inflammatory compounds. Two treatments were used in this study: a gel containing 0.5 mg/g betamethasone dipropionate (BDP) and a cream containing 2.5 mg/g LEO 29102, a PDE4 inhibitor which showed efficacy in a four-week psoriasis plaque study (NCT00875277). Formulations were topically applied once daily either from the start (prophylactic setting) or after inflammation was induced (therapeutic setting).
By in situ activation of skin‐resident Th17 cells, the InflammaSkin® model reproduces aspects of inflammatory responses observed in psoriatic lesions. InflammaSkin® could be used as a translational tool to assess efficacy of test compounds.
To learn more about InflammaSkin®, find the full article online.
Article's reference: Jardet, C, David, A, Braun, E, et al. Development and characterization of a human Th17‐driven ex vivo skin inflammation model. Exp Dermatol. 2020; 00: 1– 11. https://doi.org/10.1111/exd.14160
About Experimental Dermatology
Experimental Dermatology provides a vehicle for the rapid publication of innovative and definitive reports, letters to the editor and review articles covering all aspects of experimental dermatology. Preference is given to papers of immediate importance to other investigators, either by virtue of their new methodology, experimental data or new ideas. The essential criteria for publication are clarity, experimental soundness and novelty.
We are happy to also speak with you and give you more information on our activities. To keep up-to-date with Genoskin's latest news, follow us on Twitter and LinkedIn.
Comments are closed.