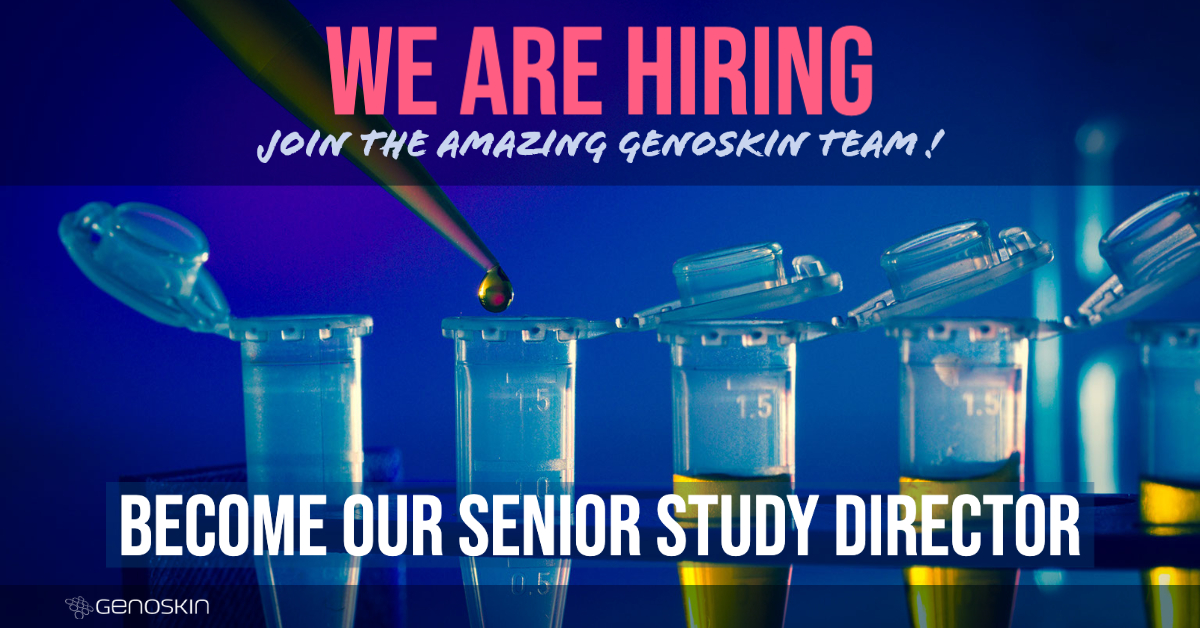 Become a Senior Study Director!
Genoskin's French team is growing! Become a Senior Study Director in our labs in Toulouse.
Ref : GEN22.10.01
Starting date : as soon as possible
Contract : CDI – permanent position
Address : Centre Pierre Potier – Oncopole, 1 place Pierre Potier, 31100 TOULOUSE
Work location: On site – 2 days per week of remote work.
Qualification : PhD in Immunology
Compensation : Base salary
Who we are
Genoskin is a French-American biotech company with research facilities in Toulouse, France, and Salem, MA. The company creates, develops and specializes in first-in-human data generation for drug & vaccine developers as well as cosmetic companies and academic institutions.
What and why we do what we do
To generate more accurate human data and deliver information faster, Genoskin uses IP-protected technologies and platforms that, for the first time, maintain donated human skin tissue in an immunocompetent and functional survival state. The result is true-to-life human skin models that are the closest alternative to in vivo testing on humans and a reliable alternative to animal testing.
Genoskin's HypoSkin® platform is the world's first platform that allows testing injections in human skin ex vivo, in order to provide drug and vaccine makers with an unparalleled de-risking tool for their portfolios. Genoskin's human skin platforms, empowered by artificial intelligence and machine learning, generate actionable human data ahead of clinical trials and significantly reduce the costs, duration and risks inherent in drug development.
Job summary
Within the Services team in our facilities in Toulouse and under the management of the Services Manager, the Study Director is responsible for designing scientific studies and vouches for the scientific relevance of both proposed study plans and results generated.
In collaboration with the Business Developers, your primary responsibilities will be to understand the clients needs and meet their expectations by designing scientifically relevant study plans in adequation with the capacities of the operational teams.
You will interact with Project Leaders throughout the studies and will be in charge of the scientific interpretation, based on literature research, of the data generated. You will also be responsible for presenting those results to the clients.
What you will be doing
Design and write the scientific study plans based on the customer needs
Interpret the results generated by technicians and project leaders and write the scientific conclusions and reports
Interact with clients from the design of study plans to the presentation and discussion of results
Interact with operations and R&D teams based in France and the US
Bibliographical analysis necessary for the drafting of study plans and study reports
Undertake regular literature reviews necessary for the writing of scientific reports and scientific advice and for keeping up to date with scientific trends and developments.
What you need to succeed
PhD in immunology or related field
Strong background in immunology: innate and adaptative immunology, inflammation, autoimmunity, vaccination process, …
Strong knowledge in skin biology and human dermatoses
Previous experience in a biotech or pharmaceutical company
Understanding of transcriptomics (bulk and / or single cell) and imaging analysis
Fluent in English, spoken and written
Autonomy, team playing skills, communication skills, efficiency and rigor
Polyvalence and flexibility
Contact
Your resume and cover letter should be sent to with mention of the job reference (GEN22.10.01) in the subject line.
Comments are closed.