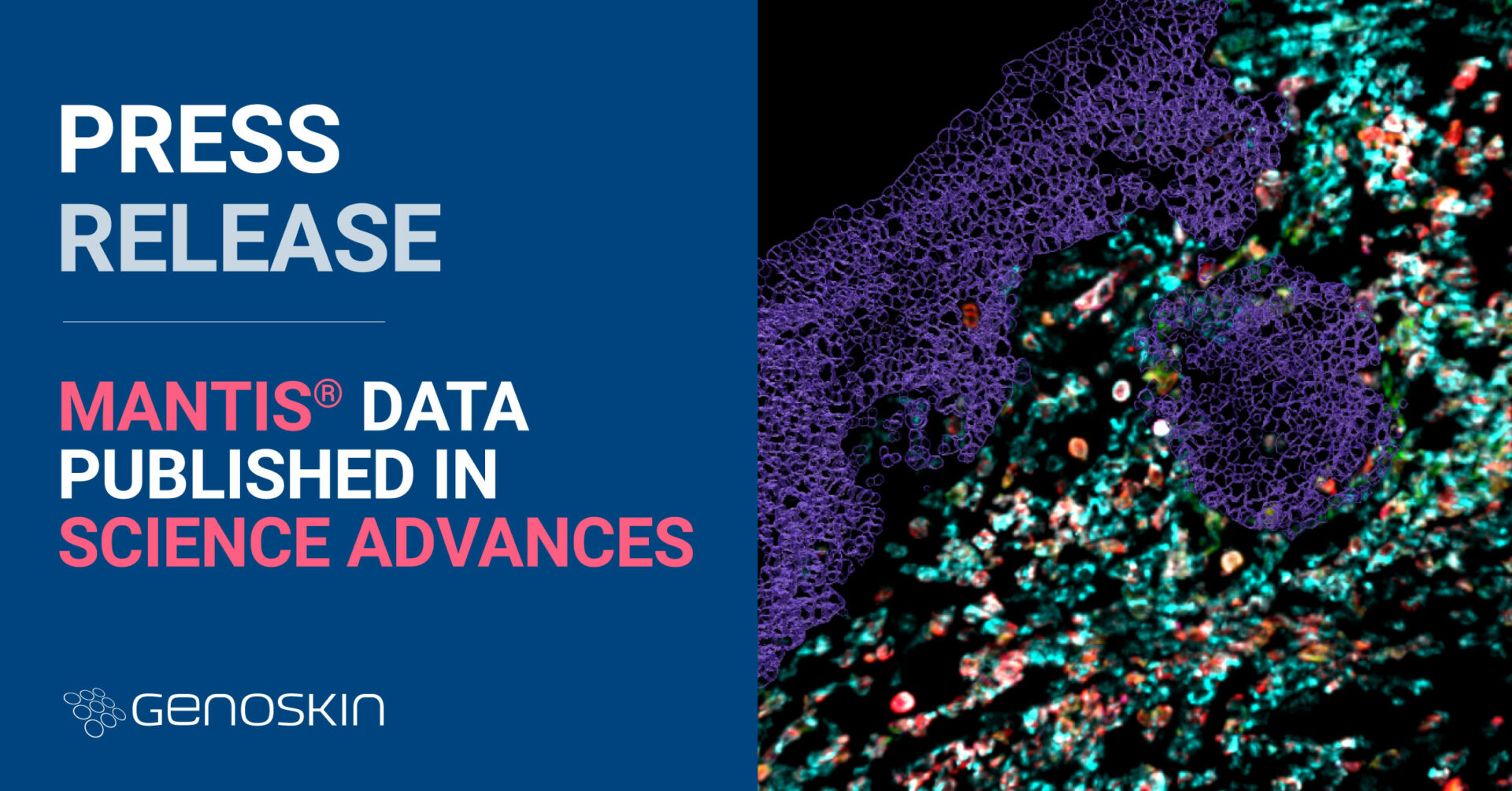 PRESS RELEASE – Toulouse, France – June 8th, 2023
Introducing MANTIS®: A Breakthrough Analytic Pipeline for Unraveling the Complexity of Inflammatory Skin Conditions.
Toulouse, France, June 8, 2023 – Genoskin is proud to announce the publication of a groundbreaking scientific article in Science Advances, introducing a new analytic pipeline called MANTIS® (Multiplexed Annotated Tissue Imaging System). The article, authored by a team of eighteen researchers, outlines MANTIS's ability to solve the spatial organization of complex immune environments in experimental or clinical skin samples.
Conventional immunohistochemistry methods often fall short in capturing the regional heterogeneity of complex inflammatory skin conditions. Recognizing this limitation, the Toulouse Institute for Infectious and Inflammatory Diseases (Infinity, INSERM) and Genoskin have developed MANTIS, a flexible and easy-to-use platform, specifically designed for spatially-resolved immune phenotyping of thick skin sections and is compatible with routine practice. Based on phenotype attribution matrices coupled with α-shape algorithms, MANTIS projects a representative digital immune landscape while enabling automated detection of major inflammatory clusters and concomitant single-cell data quantification of biomarkers.
The article published in Science Advances highlights the extraordinary capabilities of MANTIS in uncovering novel insights. The researchers observed that severe acral lesions associated with systemic lupus erythematosus, Kawasaki syndrome, and COVID-19-associated skin manifestations share common quantitative immune features. Additionally, they discovered a non-random distribution of cells, leading to the formation of disease-specific dermal immune structures. These findings shed light on the underlying mechanisms and patterns of immune response, providing a solid foundation for the development of targeted therapies and improved patient outcomes.
"MANTIS represents a major leap forward in our ability to resolve the spatial complexity of inflammatory skin conditions," said Nicolas Gaudenzio, Chief Scientific Officer at Genoskin and Principal Investigator at Infinity, INSERM. "By providing researchers with a precise and automated immune phenotyping tool, MANTIS will contribute to a better understanding of the pathophysiology of skin diseases, ultimately leading to more effective treatments."
"We are truly excited about the publication of data utilizing the MANTIS spatial biology platform," said Pascal Descargues, CEO of Genoskin. "This platform opens up new avenues for the pharmaceutical industry to explore the impact of drugs, including vaccines, on the cutaneous immune system. This technological advancement will not only enhance our service offerings but also drive revenue growth by facilitating the development of targeted therapies for improved patient outcomes. Leveraging the extensive research conducted by Dr. Gaudenzio and his team, MANTIS has emerged as a powerful and versatile tool. Our collaboration with the Infinity Lab at Inserm has been an incredible journey, and we look forward to engaging in further collaborative efforts with academic laboratories."
About Genoskin
Genoskin is a TechBio company that leverages immunology to de-risk therapeutic development, by enabling earlier access to better human data.
Genoskin platforms use bio-stabilized and immunocompetent ex vivo human skin from representative patient cohorts to elucidate efficacy and toxicity of injected biotherapeutics and medical devices. Combined with advanced analytical technologies including next-generation transcriptomics, multiplexed proteomics and artificial intelligence, Genoskin generates actionable human data, significantly reducing the costs, length and risks associated with drug & device development. For more information visit https://genoskin.ixesse.fr/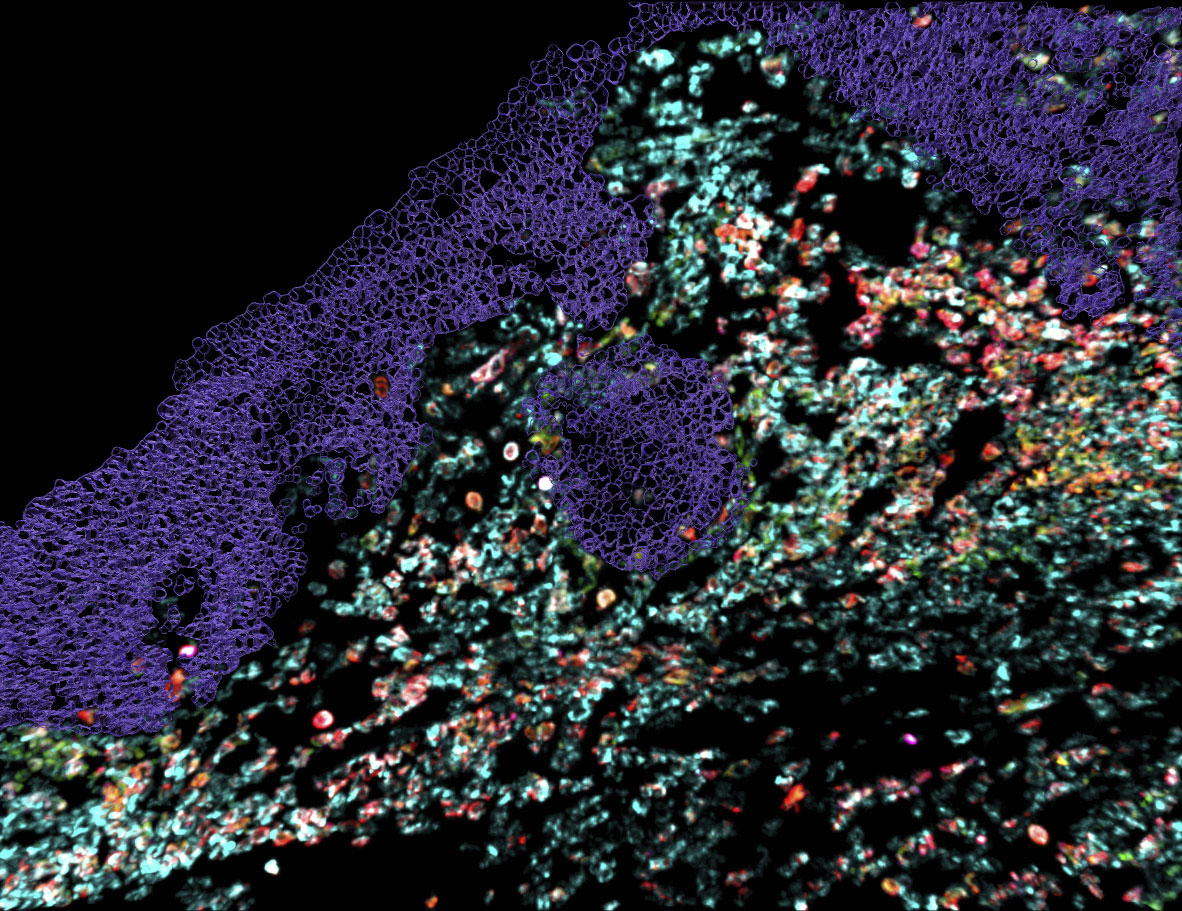 MANTIS® myeloid panel on Lupus patient.
Comments are closed.