NativeSkin® human skin models
live first-in-human data generation
The NativeSkin® live human skin model
A cruelty-free

highly predictive

model for relevant study results

NativeSkin® human skin models provide the closest alternative to directly testing on a real person's skin. NativeSkin® models are round human skin biopsies contained in a patented matrix that keeps them alive and functional. The model is designed to offer an innovative study platform for research and analysis to study the response of real, live human skin to compounds, drugs, cosmetics and medical devices after topical or systemic administration. A quick overview of the model's features and benefits:
Immunocompetent
NativeSkin® models hold the features and functionalities of in vivo human skin, with all cells and appendages, to generate predictive human data.
Human
The models only contain real, donated human skin and are animal component free (ACF) / xeno-free (XF) for research and cosmetic testing.
Skin
NativeSkin® models are standardized to allow for reproducible research and testing on real, live human epidermis and dermis.
On Demand
NativeSkin access® skin models can be ordered online but our experts can also help you design the perfect NativeSkin® study to fit your needs.
Live response from

real

human skin
A full week of testing opportunities
The NativeSkin® model is a live, patented ex vivo human skin model that contains round human skin biopsies from donated surgical discards. The skin is kept alive thanks to Genoskin's patented technology, which allows keeping real human skin in a living state for 7 days. This approach helps us provide a highly relevant and reliable solution to pharmaceutical, biotech, cosmetic and chemical companies to test their compounds on real human skin for an entire week, without harming either humans or animals.
NativeSkin® keeps things

real
Real human skin for real human data

Ethical

compliance

&

sourcing

procedures
Official authorizations from French & US institutions
Approved by the Ethical Committees
Informed Consent from every donor
Secure agreements with contributing hospitals and clinics in France and in the US
More on ethical compliance
Real human epidermis & dermis with all cells, appendages and characteristics
Maintained skin barrier function, tissue integrity, morphology and physiology
Live human skin response to your compound, drug or cosmetic
Animal component free (ACF) / xeno-free (XF) model and culture medium
Safety tested for Hepatitis B, Hepatitis C, HIV 1 & 2
Donor information on age, gender, skin type, allergies, skin conditions and specific dermatological treatments
Informed consent
Informed consent from all donors, in compliance with all applicable regulations
Compliant procedures
Skin sourcing approved by all mandatory institutions in France and the US
Ethical & secure sourcing
Secure agreements with hospitals and clinics
Standardized production
Compliant & standardized production for reproducible results
Scientific

validation

in terms of

skin structure
Human skin structure is maintained for +7 days

Since it is real human skin, NativeSkin® has the same structure and composition as in vivo human skin. It presents a mature stratum corneum and normal skin barrier function and their integrity can be preserved for 7 days. After 7 days of culture, experimental data may show higher variability but NativeSkin® remains viable. Hematoxilin & Eosin staining shows mature stratum corneum, a dermal-epidermal junction that comprises the key features of the dermal-epidermal junction of real human skin, with a preserved basal layer and rete ridges. The images also illustrate that dermis integrity is preserved for 7 days.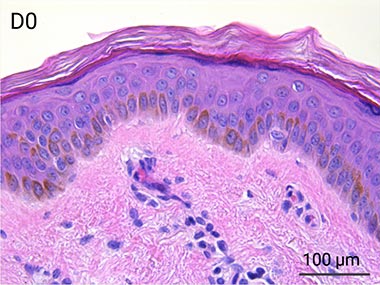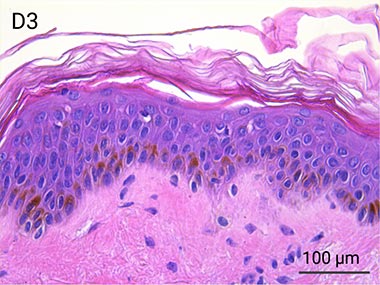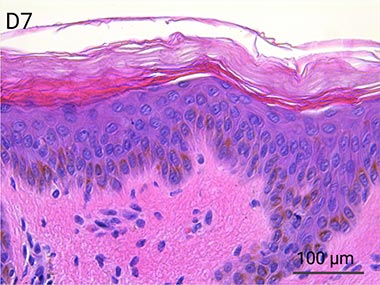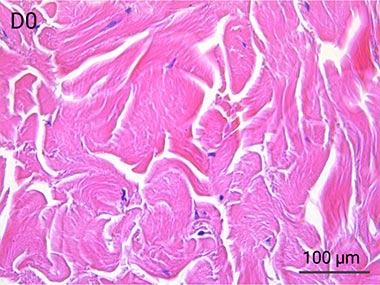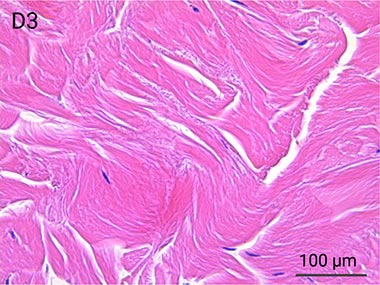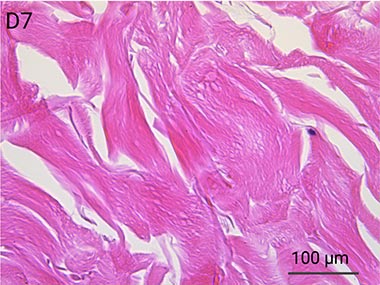 Scientific

validation

of

live human skin response
NativeSkin® models show real human skin response

Even though cell interaction may vary from one person to another and one skin type to the next, live cell interaction remains crucial when it comes to estimating the response of human skin to certain compounds. Thanks to Genoskin's patented matrix, immune cells remain present and viable in NativeSkin®, allowing for real human skin response.
Exposure of NativeSkin® to pollution
To better characterize the consequences of exposure to pollution on human skin homeostasis, we incubated NativeSkin® models in a pollution chamber every day for four days. The pollution chamber was designed to mimic chronic low-level environmental exposure of five Volatile Organic Compounds (VOCs): hexane, toluene, acetaldehyde, formaldehyde and acetone. Results are shown below. You'll find all the study details here.
Cell viability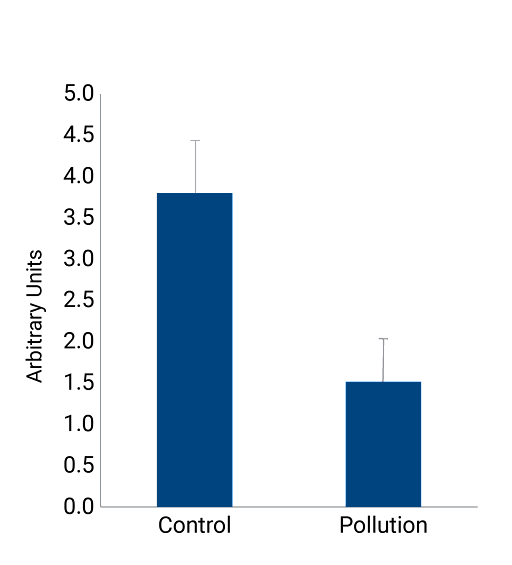 Pollution induces an important decrease in cell viability in NativeSkin®. This MTT assay shows a decrease of about 60% in cell viability.
Cell proliferation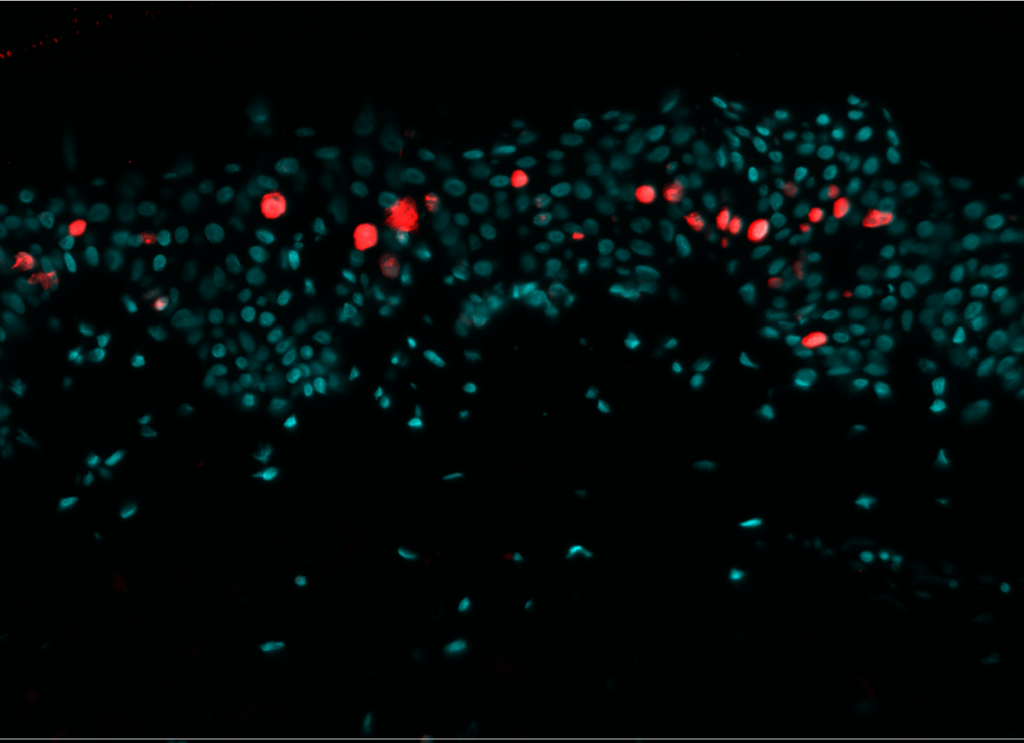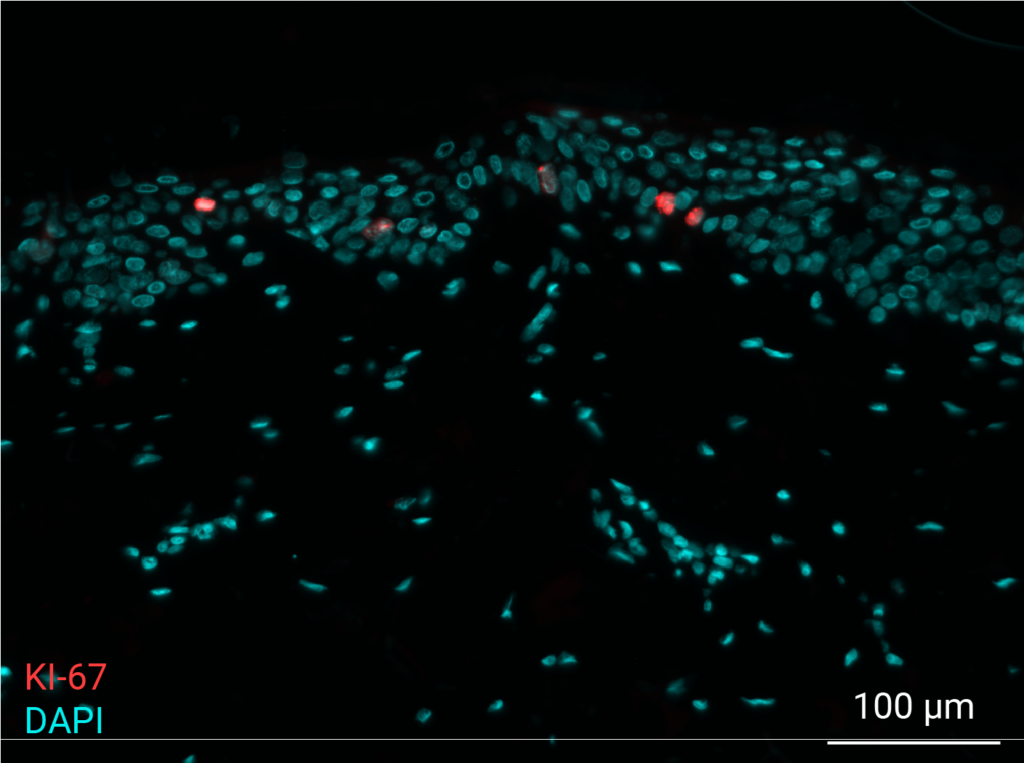 Pollution exposure decreases cell proliferation. Cell proliferation was analyzed by immunostaining of NativeSkin® model for Ki-67. Proliferative cells were normally present in the non-polluted NativeSkin® models from day 0 to day 4. Exposure to pollution induced a 3.7 fold decrease of Ki-67 positive cells in the epidermis as compared to control.
Exposure of NativeSkin® to UV-rays
NativeSkin® is a relevant tool to assess protection against UVB damage. In order to demonstrate the response to UVB-rays, we irradiated NativeSkin® models with UVB dosed at 250 mJ/cm2 and 500 mJ/cm2 and compared the results with non-irradiated models.
Oxidative stress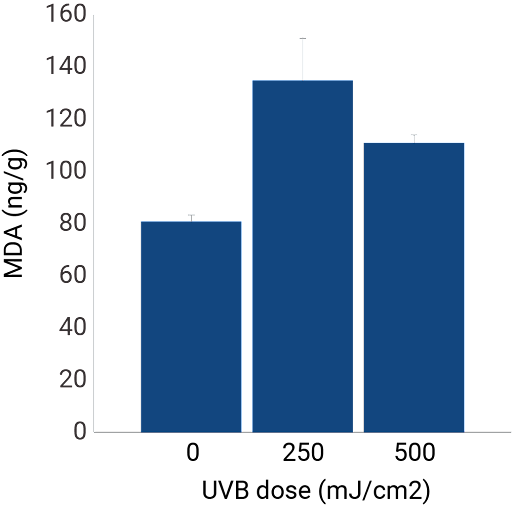 Malondialdehyde (MDA) measurement: as UVB radiation causes an increase in oxidative stress, we measured MDA formation in NativeSkin® samples. Results show an increase of MDA formation in the samples that were irradiated with UVB.
Cell apoptosis & thymine dimer formation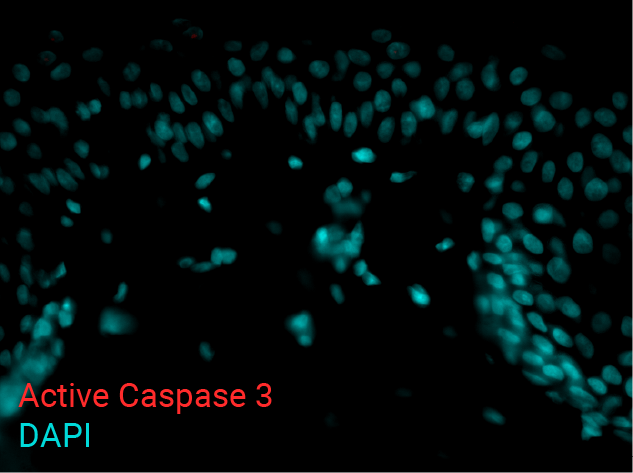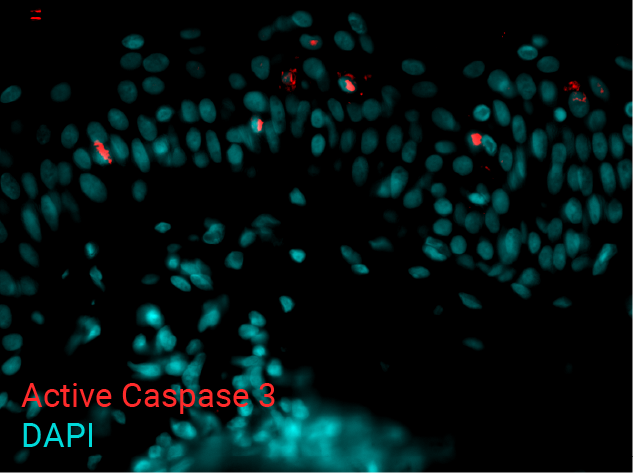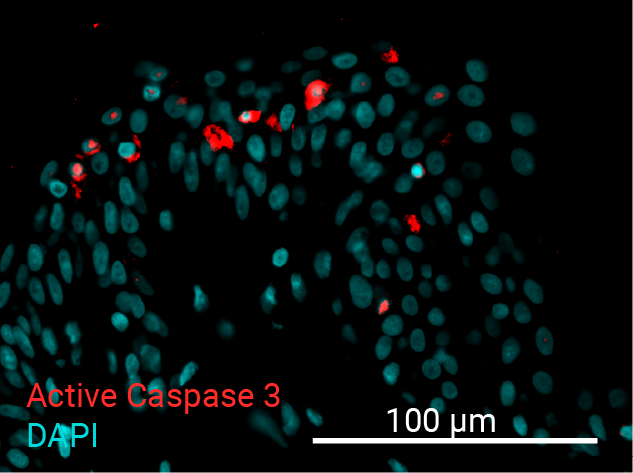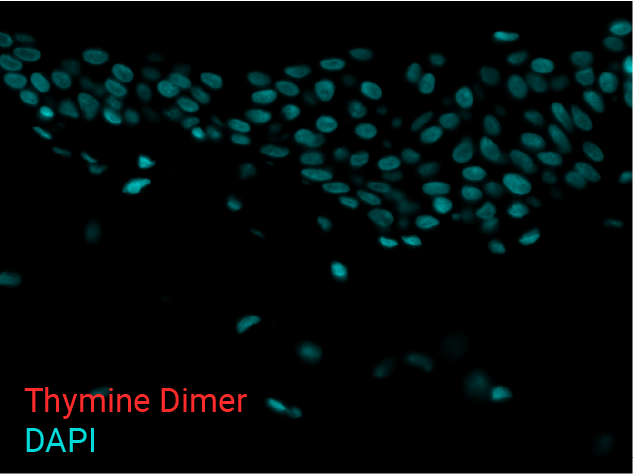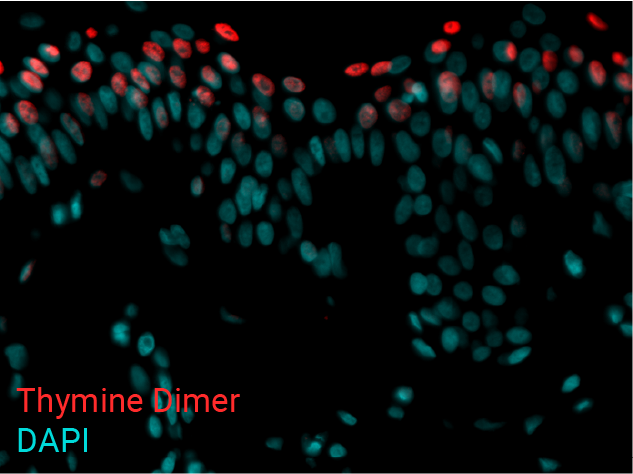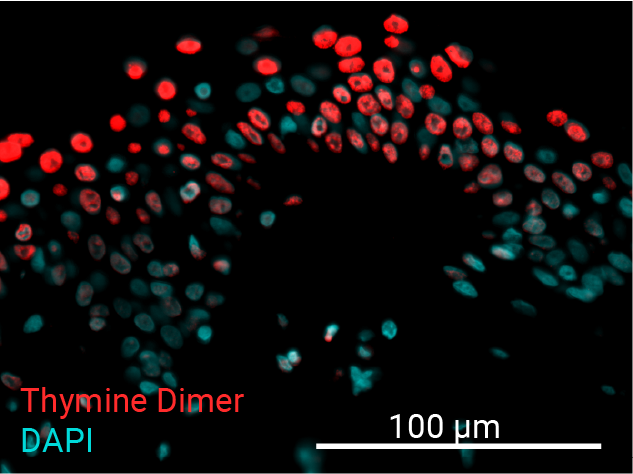 The results show that UVB induces important skin damage in NativeSkin® models. Immunostaining with anti-active Caspase 3 shows an important increase in cell apoptosis induced by UVB radiation. Immunostaining with anti-thymine dimer shows an important increase in the formation of thymine dimer, meaning that UVB radiation induces DNA damage in skin cells.
A versatile

study platform

for first-in-human data
Easy & relevant study results after topical and systemic administration

The NativeSkin® model is very versatile and suitable for a wide range of applications thanks to its unique configuration. The presence of human epidermis and dermis in the NativeSkin® model allows for systemic treatments and genomic readouts to study how skin cells and appendages respond to your compound after it has been added to the culture medium. The larger NativeSkin® models come with a silicone ring, which prevents compounds from leaking into the culture medium. This approach allows for true topical application in a sealed environment and relevant data for skin absorption and barrier function studies.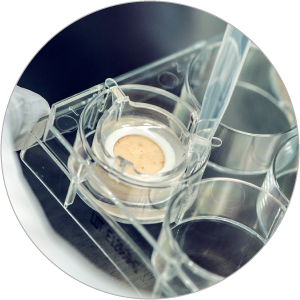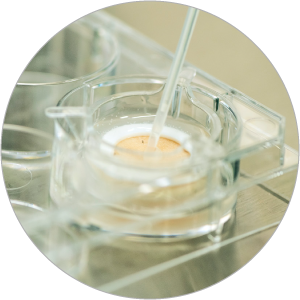 A wide range of

applications
Pick the right method to assess your drug, cosmetic or medical device

The NativeSkin® model is suitable for a wide range of applications including preclinical efficacy and toxicity studies as well as cosmetic claim substantiation. The model is frequently used to evaluate all kinds of compounds, active ingredients and finished products, such as lotions, gels, creams… as well as medical devices, such as microneedle array patches (MAPs). Below, you'll find some examples of the types of studies you can conduct with the NativeSkin® model.
Skin delivery
Topical absorption & effects on skin metabolism
Toxicity
Compound toxicity & effects on barrier function
Wound healing
Wound healing properties & microbial colonisation
Skin microbiome
Effects on the skin microbiome & microbial colonization
Viability assay (MTT/WST-8)
Formalin fixation for paraffin embedding
OCT fixation and cryosectioning
Epidermal separation (with Dispase and heat-mediated)
H&E staining
Fontana Masson staining
Lucifer Yellow penetration
Human keratinocyte primary culture
RNA extraction
Immunofluorescence staining
One model,

two ways

to get the results you need
Pick your preferred option & get your study going

NativeSkin® is available as an in-house service to conduct custom studies for a wide range of applications. Don't hesitate to use our 10 years of experience so we can help you obtain relevant results to move your research forward. However, should you prefer to conduct the studies in your own labs, don't hesitate to order directly via our online platform, as NativeSkin® is also the only human skin model available for shipment around the world.
Scientific

publications

using NativeSkin®
See how others use the NativeSkin® model to generate results