Hyposkin® human skin models
Live immune response to subcutaneous injection
The HypoSkin® live human skin model
First-in-human data generation for

subcutaneous

injections

HypoSkin® human skin models currently offer the closest alternative to directly injecting a compound in an actual person's skin. They are designed to help drug and vaccine developers accelerate the selection of viable drug candidates. Thanks to our unique technology, the models help you obtain relevant and accurate first-in-human data when it comes to injection site reactions, immunology or metabolism. A quick overview of what HypoSkin® can do for you:
Immunocompetent
HypoSkin® models hold the features and functionalities of in vivo human skin, with all skin and immune cells, to generate predictive human data.
Standardized
The models are standardized for reproducible research and testing on real, live human epidermis, dermis and adipose tissue.
Injection
The HypoSkin® model is the only human skin model on the market to study live response to subcutaneous and intradermal injection.
Platform
HypoSkin® is suitable for a broad range of applications, from injection site reactions over medical devices to studying bolus injections.
Human

immune

response to your drug
A full week of testing opportunities
Due to the current lack of research tools to study response to injections in humans, the development of injectable therapeutics remains challenging, with animal testing as the only option. To date, Genoskin's HypoSkin® model is the only human skin study platform in the world that allows studying subcutaneous and intradermal injection in humans without harming either humans or animals. HypoSkin® models provide crucial information on the response of real, live human skin and immune cells to drugs, vaccines and medical devices. The skin is bio-stabilized thanks to our patented technology, which allows keeping real human skin alive for 7 days. This approach helps us provide a highly relevant and reliable solution to pharmaceutical, biotech, cosmetic and chemical companies to test their compounds on and in real human skin for an entire week.
The HypoSkin® project has received funding from the European Union's Horizon 2020 research and innovation programme under grant agreement No 816289 (SME Instrument).
Study human immune cell response to

derisk drug development
Live human immune cells in their native environment







Human skin is much more than an excellent tool to study the response of structural cells, such as melanocytes, keratinocytes, sebaceous glands, etc., to formulations. Real human skin also possesses an extraordinary diversity of immune cells that are involved in drug-induced immunotoxicity (Tokura et al., 2021 & Kabashima et al., 2019). The immune cells we find in the skin (resident memory CD4 and CD8 T lymphocytes, dendritic cell subsets, innate lymphoid cells, natural killer cells, macrophages, mast cells, some B-cells and others… ) are also present in other human organs (Nguyen et al., 2019). In real skin, immune and structural cells constantly interact together to form a true ecosystem, which is key to apprehending human immunological response to drugs and formulations prior to clinical trials.






HypoSkin®, a flexible

study platform

for first-in-human data
Easy & relevant study results for research on injections
The HypoSkin® model contains live human epidermis, dermis and adipose tissue. It is the only model on the market that allows for research on subcutaneous injection in human skin, but it also is suitable for studies on infusion and intradermal injection of all types of biologics and small molecule drugs.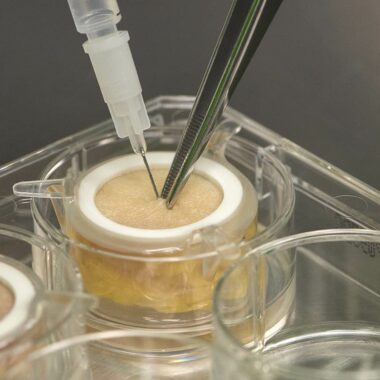 Subcutaneous Injection & Infusion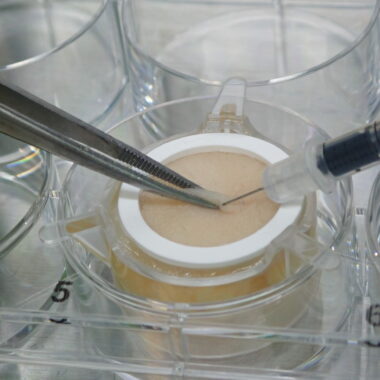 A wide range of

applications
Explore all the possibilities of immunocompetent human skin

The HypoSkin® model is suitable for a wide range of applications, including first-in-human efficacy and toxicity studies, prior to clinical trials. The model allows for in-depth immunology studies in order to provide a window to the immune response of the human body after drug or vaccine administration. Below, you'll find some examples of the types of studies you can conduct with the HypoSkin® model.
Dermal filler characterization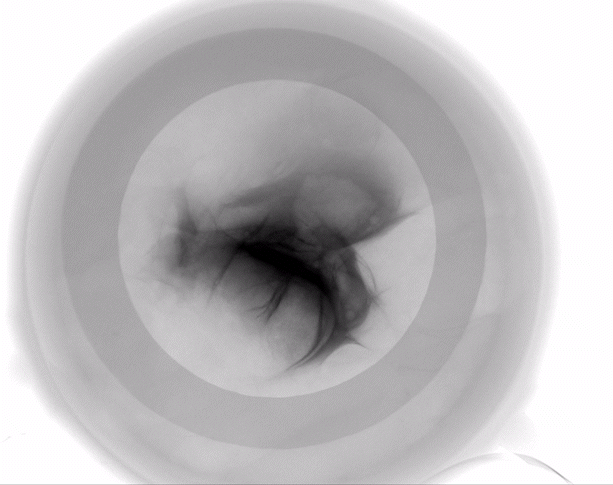 Cutting-edge

data analysis

for relevant results
Study the whole picture before you move forward
To help you obtain the full picture of how skin and immune cells respond to your formula, our expertise includes unbiased data analysis via artificial intelligence, spatial biology for specific applications.
Scientific

validation

in terms of

skin structure
Human skin structure is maintained for 7 days

Since it is real human skin, HypoSkin® has the same structure and composition as in vivo human skin. Hematoxilin & Eosin staining shows that the tissue and cellular structures of all three skin layers (i.e. epidermis, dermis and hypodermis) are preserved. The images reveal a mature stratum corneum, a dermal-epidermal junction with the same key features as real human skin, a preserved basal layer and rete ridges. The images also illustrate that HypoSkin® integrity is preserved for up to 7 days.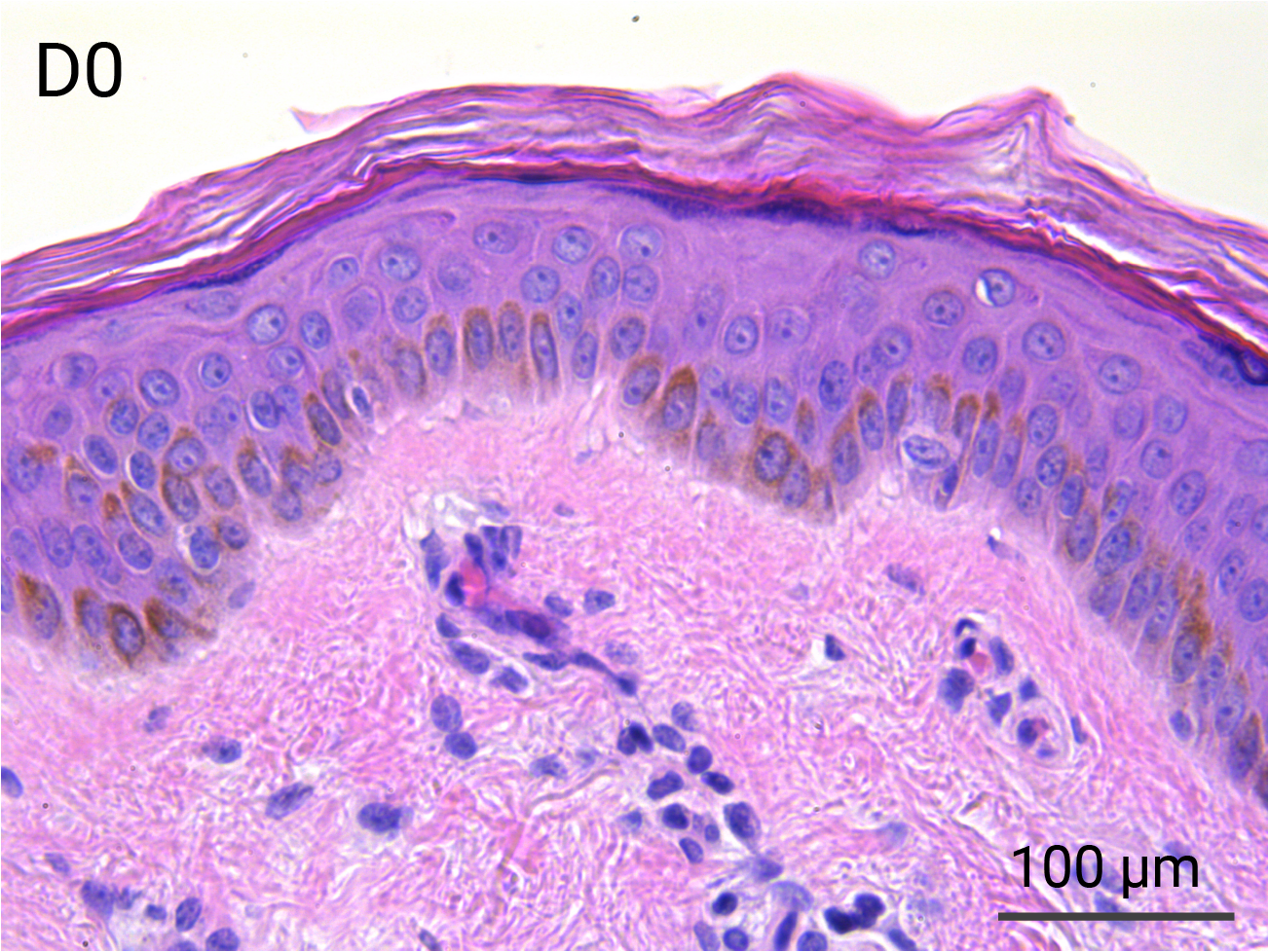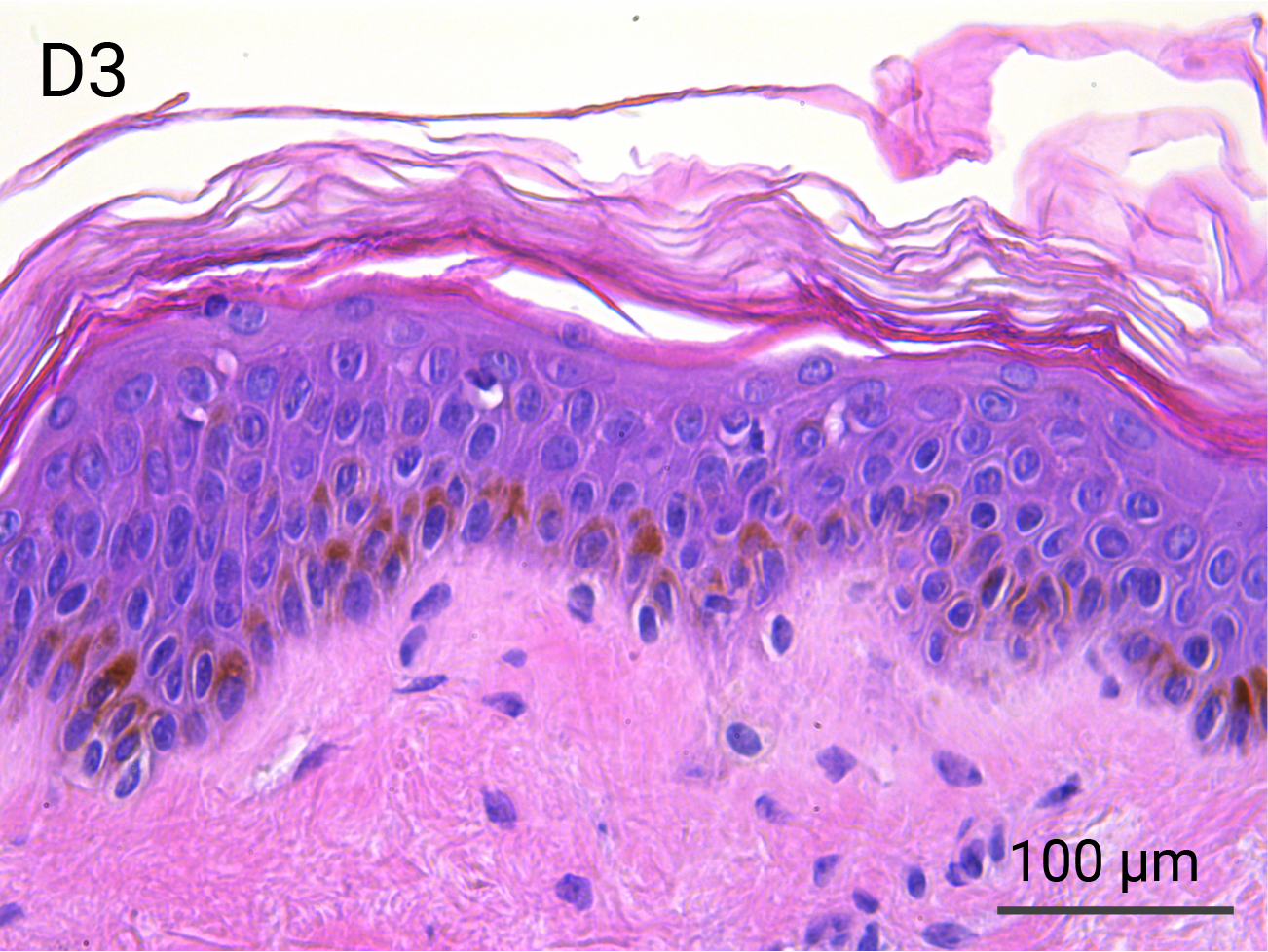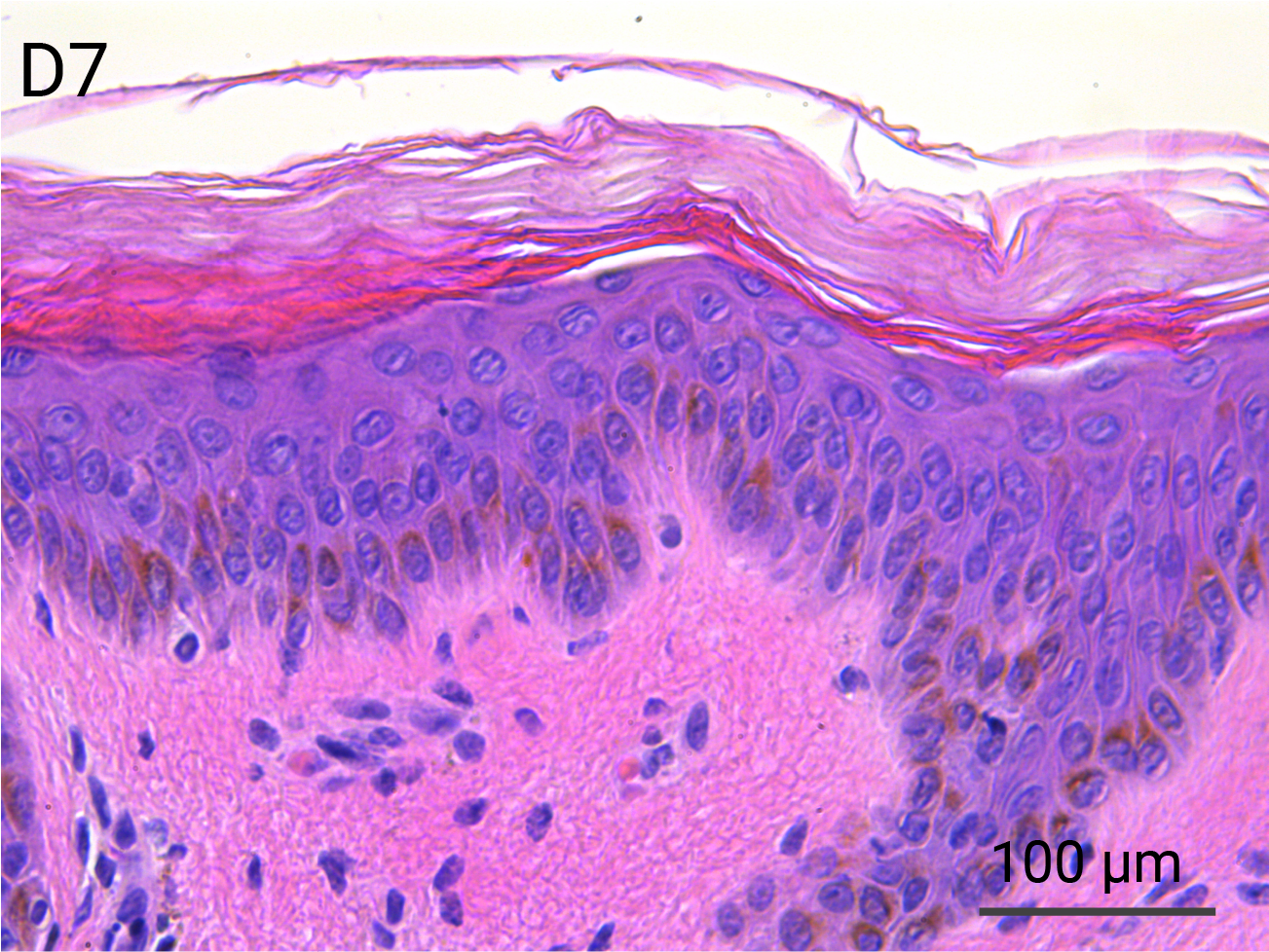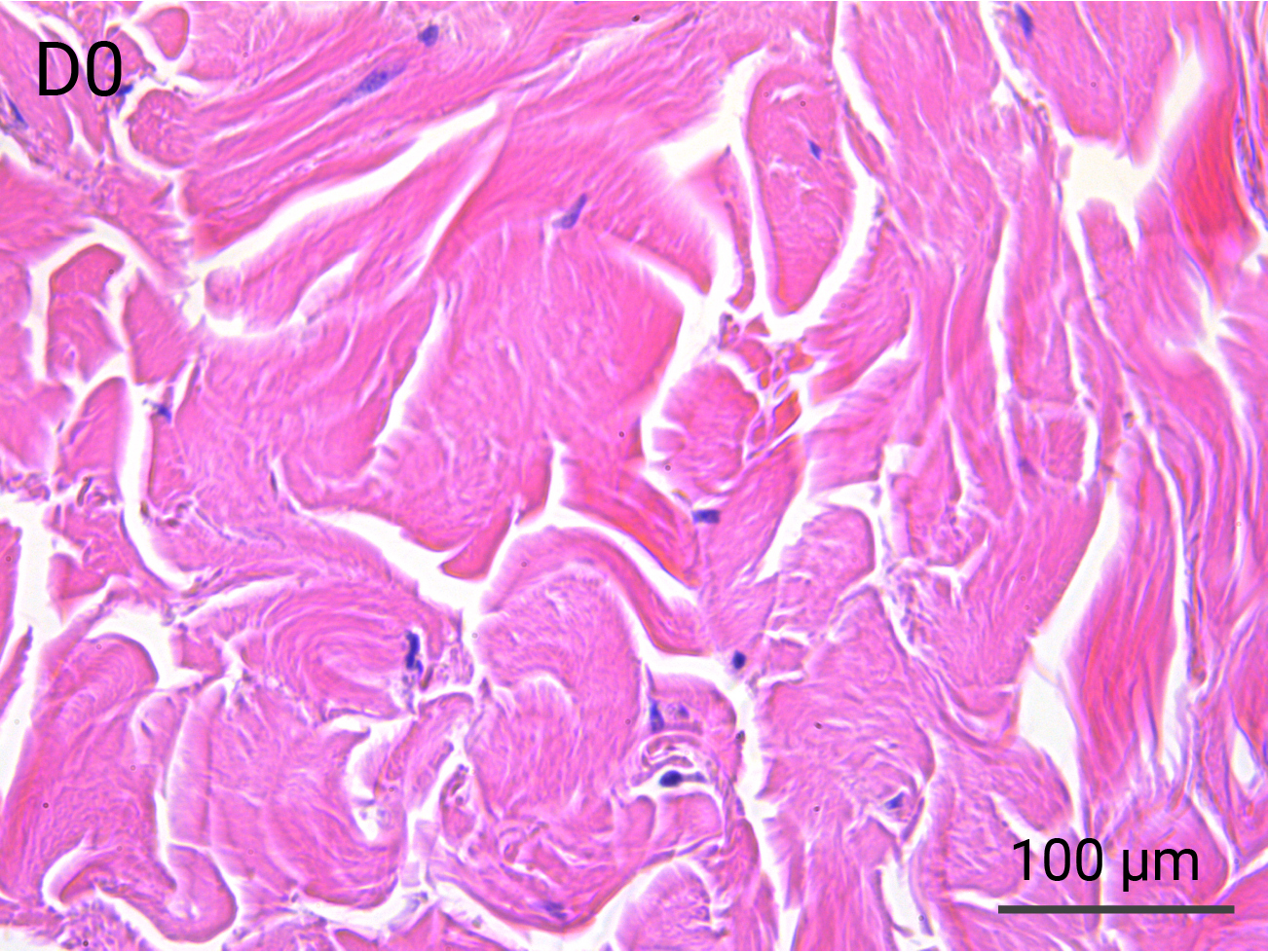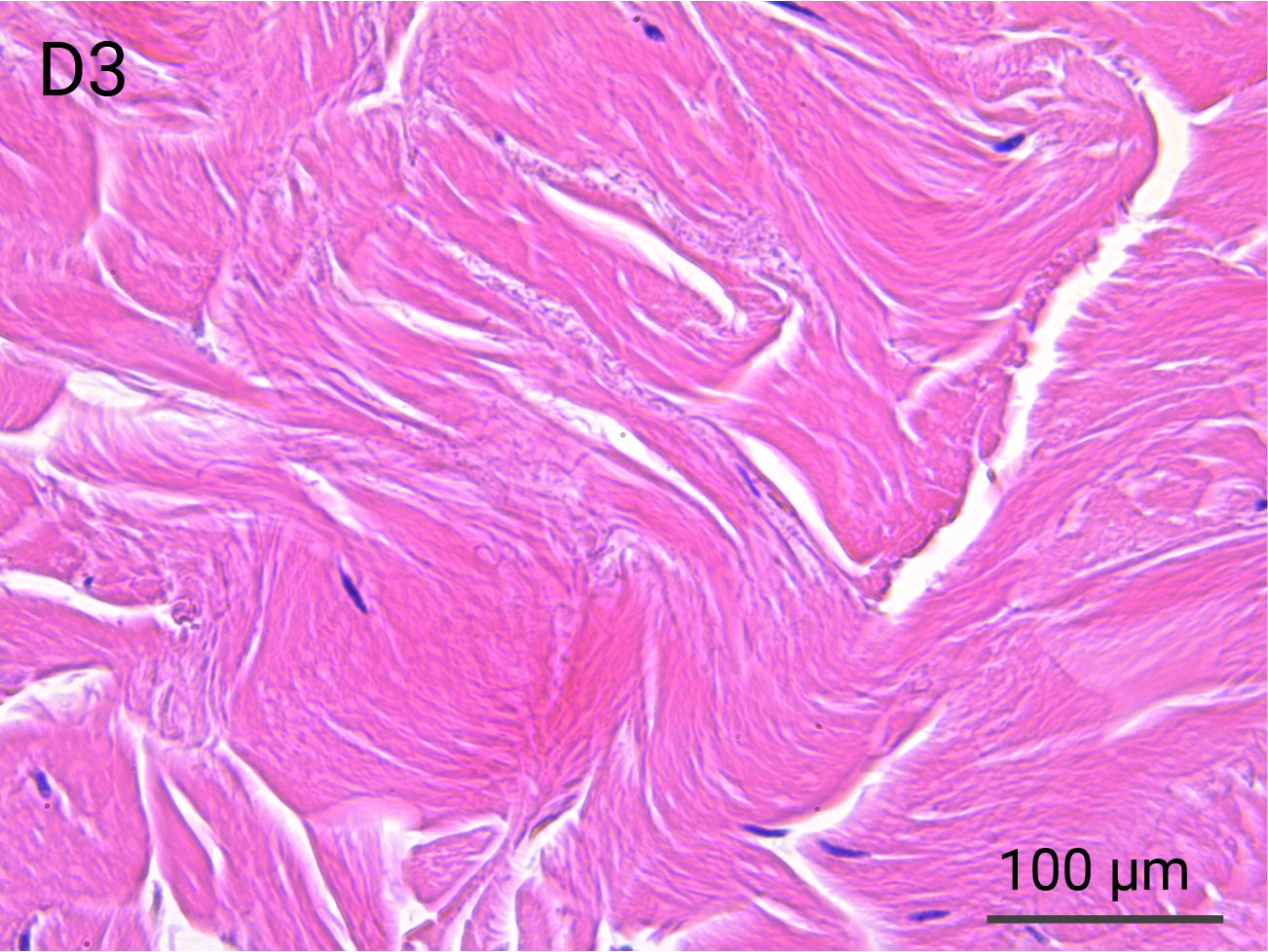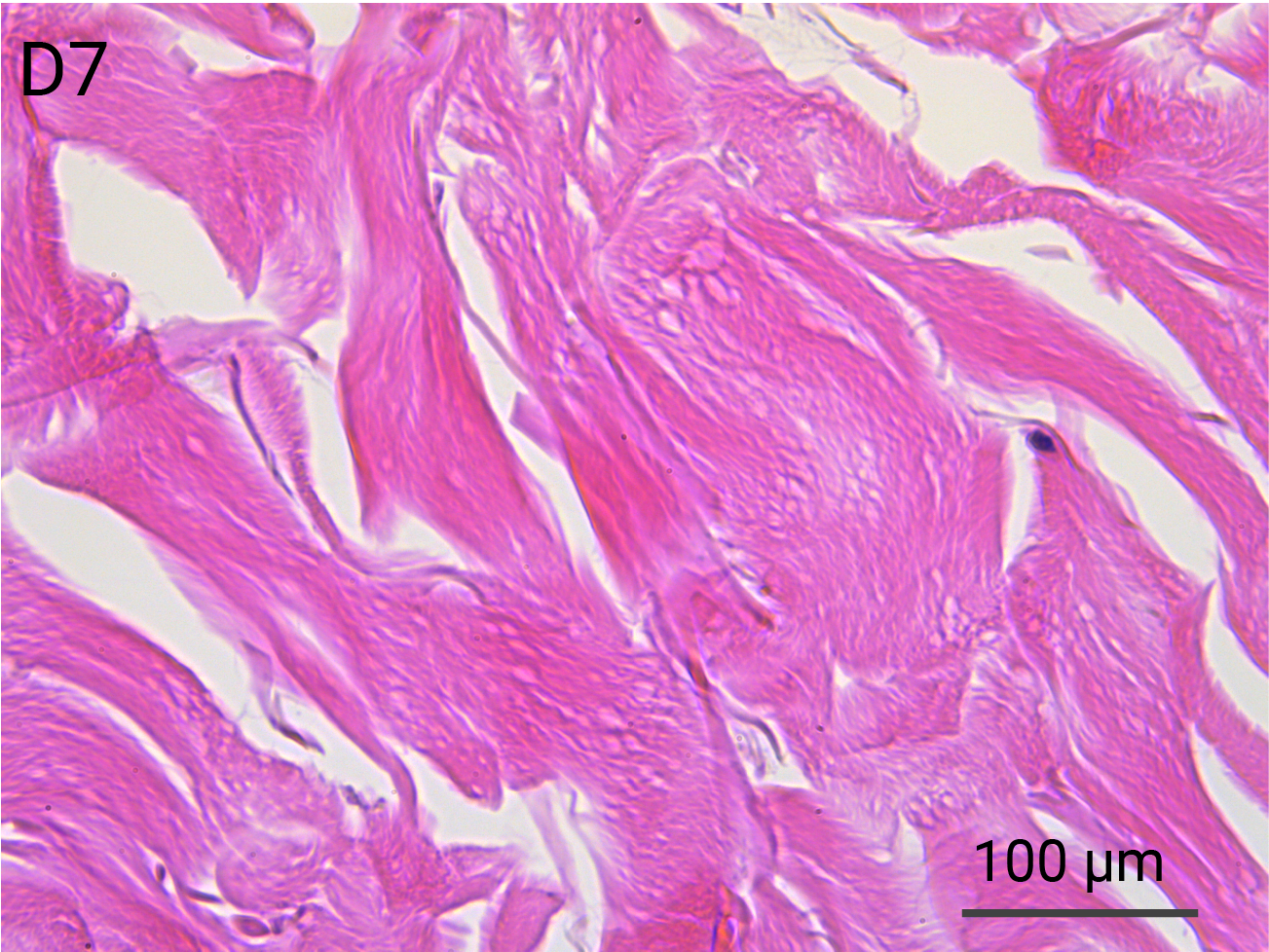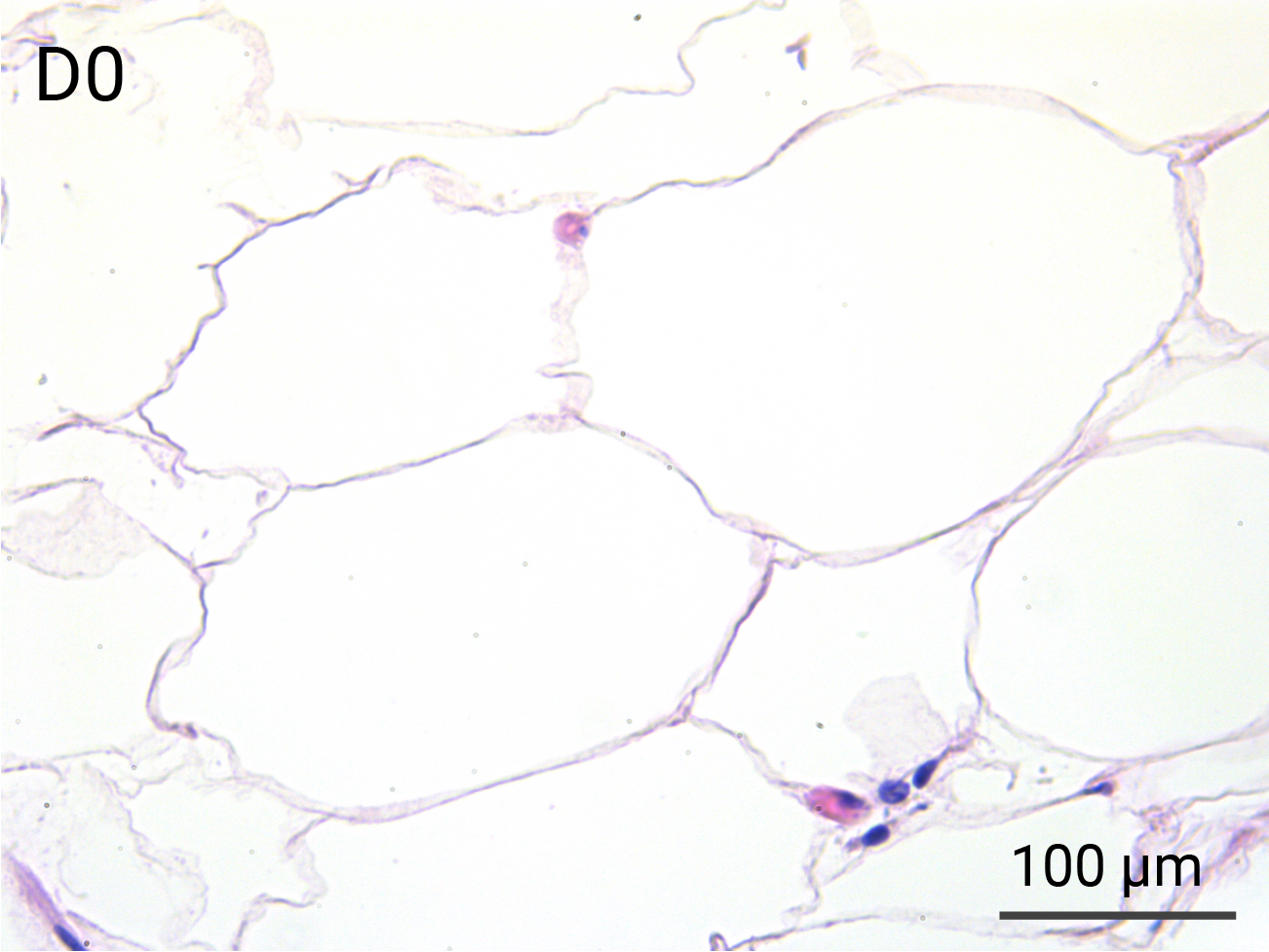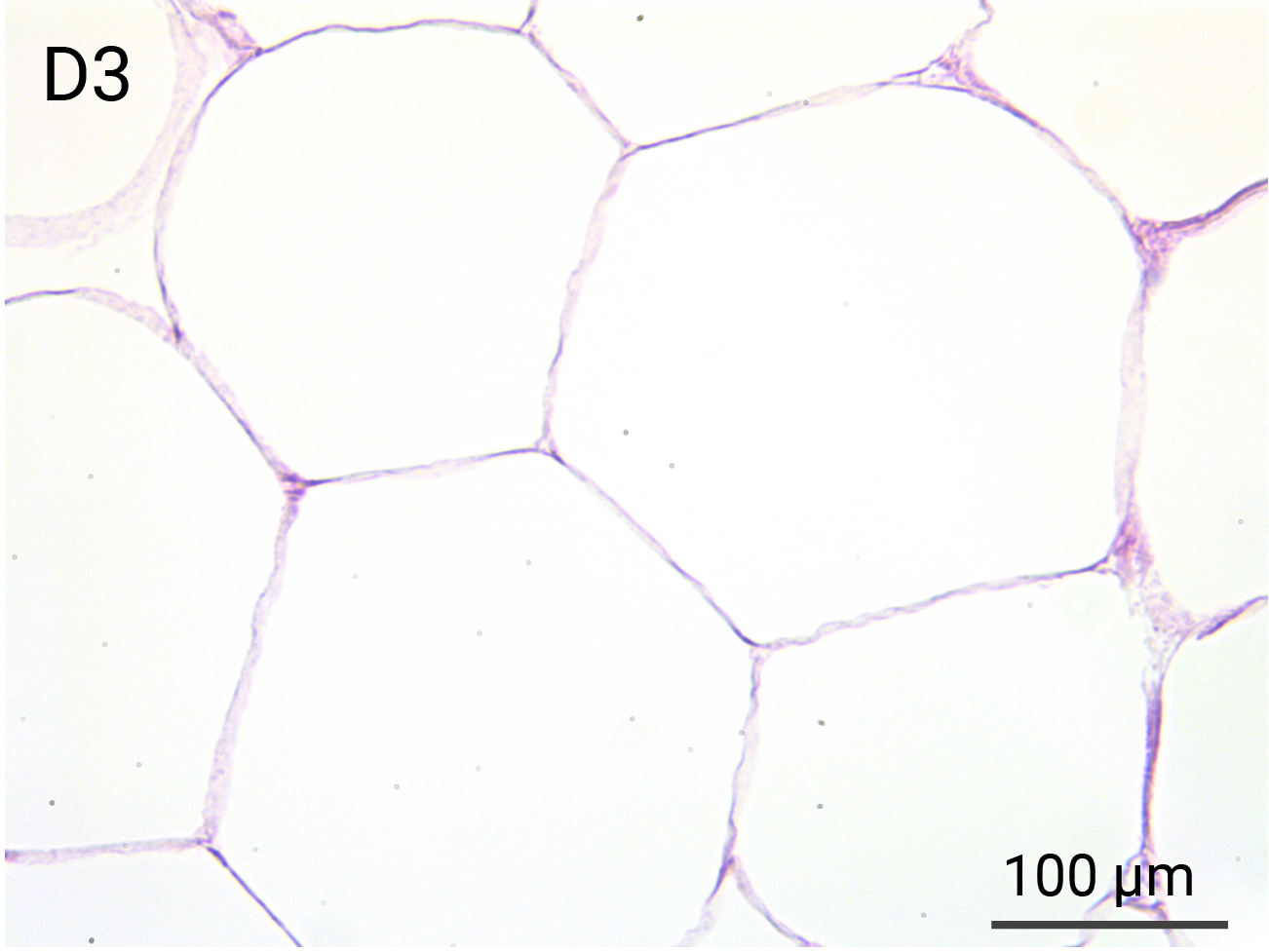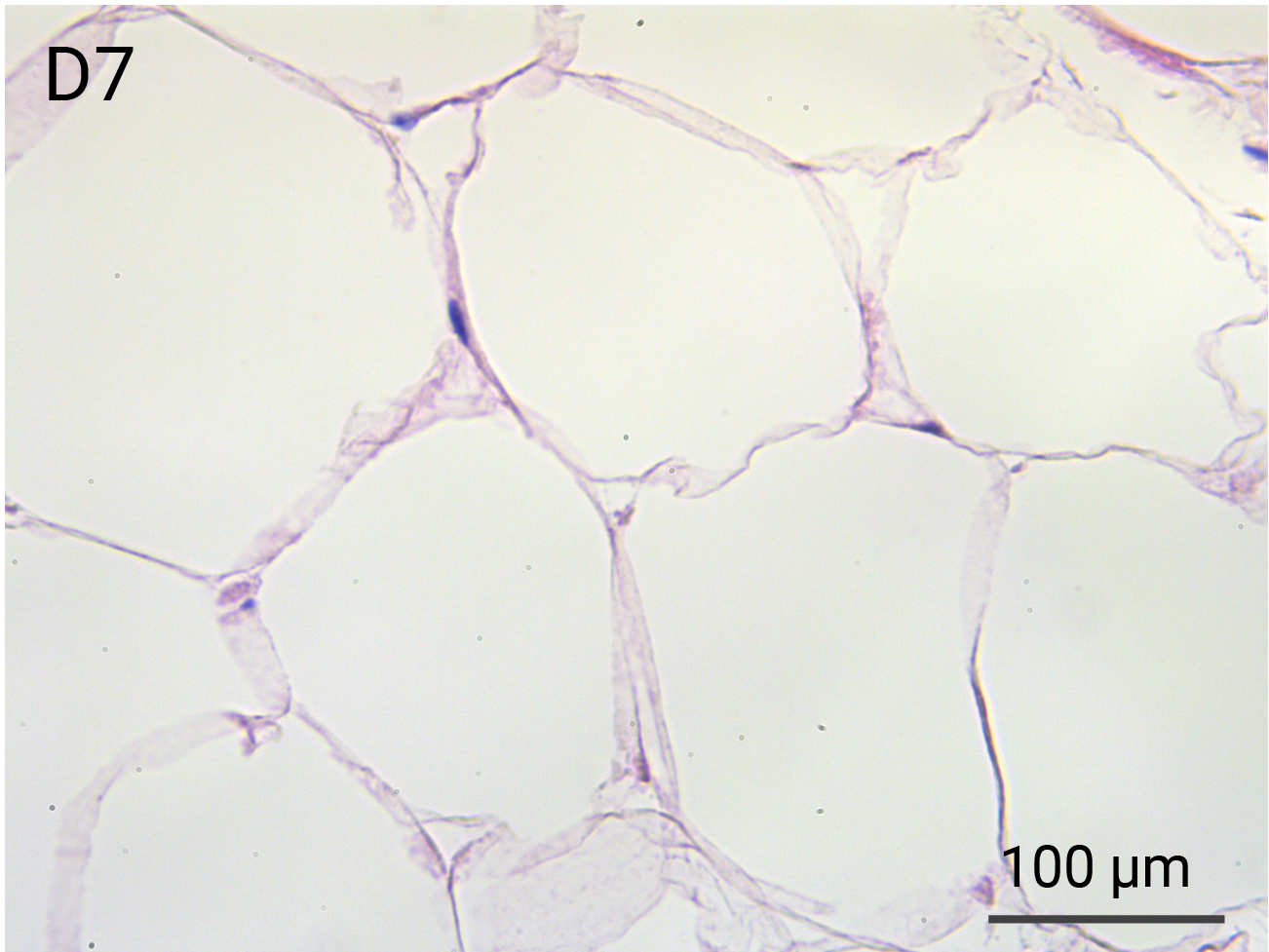 Scientific

validation

in terms of

immune cell presence
Functional & activatable human immune cell response
Thanks to Genoskin's proprietary technology, all skin-resident immune cells remain functional for over a week during experimentation. In the image below, HypoSkin® immune cells are characterized using our dedicated MANTIS® spatial biology platform. As shown in the image, HypoSkin® contains a normal, functional and activatable population of immune cells, including myeloid cells (Langerhans, Dendritic cells, Mast cells, Macrophages…).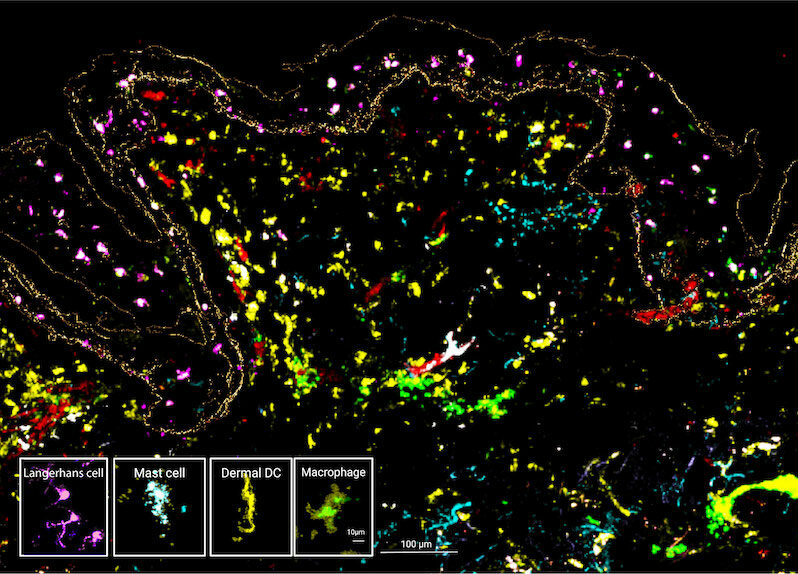 Diversity of myeloid cells in HypoSkin® at D1 of culture. Acquisition made thanks to our proprietary spatial biology solution, MANTIS and using the Myeloid Cells panel (markers: CD45 – CD1c – CD207 – Tryptase – HLA-DR – Siglec 8 – CD123 – MPO – CD68).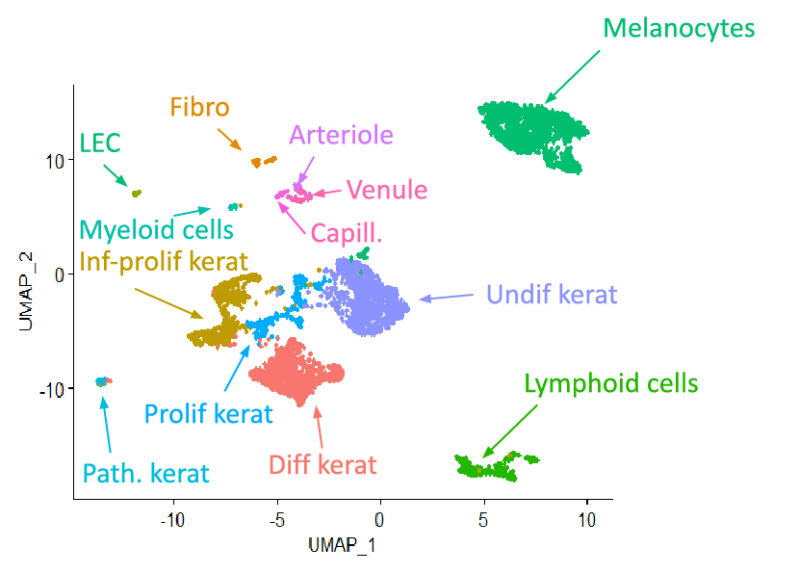 Analysis of the main cell subpopulations found in HypoSkin® at D1 of culture. After RNA extraction from HypoSkin®, we analyzed the model with Next Generation single cell RNA sequencing. 15,000 cells and more than 9,000 genes were analyzed.
Example of application
Toxicity assessment services

Local immune burst & inflammatory event associated with skin-resident immune cell or mast cell activation is mostly caused upon injection of biologic drugs.
Local toxicity causing cell death and necrosis is mostly caused upon injection of small molecule drugs.
Scientific

publications

using HypoSkin®
See how others use the HypoSkin® model to generate results