A fully functional ex vivo human skin model to study human skin microbiome
USING HYPOSKIN EX VIVO SKIN MODEL
Research by B. Coupe (Vaiomer), M. Pastore (Genoskin), E. Pagès (Genoskin), E. Braun (Genoskin), A. Broha (Vaiomer), P. Descargues (Genoskin)
The human skin is colonized by a diverse population of microorganisms. The symbiotic host-microorganism relationship can be affected by numerous factors, both endogenous and exogenous. This can result in skin disorders or infection. In vitro human skin model equivalents have been developed to assess the interaction between the skin and the microbiota. However, most studies have only looked at the impact of individual microbiota species. Genoskin has developed HypoSkin®, a fully functional ex vivo human skin model with the three skin layers based on NativeSkin® explant technology. The objectives of this study were to characterize the skin microbiota in the different layers of the HypoSkin® ex vivo human skin model over 7 days. We studied microbiota evolution throughout the culture using state-of-the-art Vaiomer's proprietary technology based on 16S ribosomal RNA.
Skin microbiota is specific to the different skin layers
Four dominant phyla were observed when performing 16S metagenomic sequencing using V3-V4 Illumina MiSeq technology.
These include: Firmicutes, Proteobacteria, Actinobacteria and Bacteroidetes which is consistent with data reported in the literature.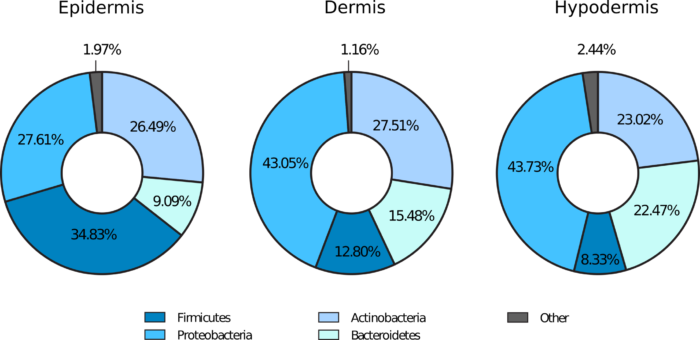 Bacterial composition in the epidermis, dermis and hypodermis following production.
Skin microbiota population is preserved after 7 days
The microbial population present in the samples was determined in the whole biopsies and in the different skin layers using next generation high throughput sequencing of variable regions of the 16S rRNA bacterial gene.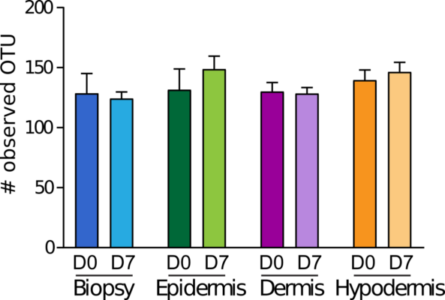 Microbial population following production & after 7 days. 
Most represented skin bacteria are present after 7 days of ex vivo culture with changes in relative abundance
A diverse skin microbiota composition was observed with the presence of the bacteria Propionibacterium, Corynebacterium and Staphylococcus(genus level), generally regarded as skin colonizers, in the three skin layers of the five skin donors. Interestingly, the skin microbiota diversity was maintained after 7 days of ex vivo culture in the three skin layers and for the five skin donors. Inter-individual variability was observed as well as differences in relative abundance between skin layers and between day 0 and day 7 post-culture.

Microbial population following production & after 7 days. 
Conclusion
HypoSkin® is a fully functional ex vivo human skin model that is relevant
to study human skin microbiome and to assess changes in skin microbiota following treatment with dermo-cosmetic products.