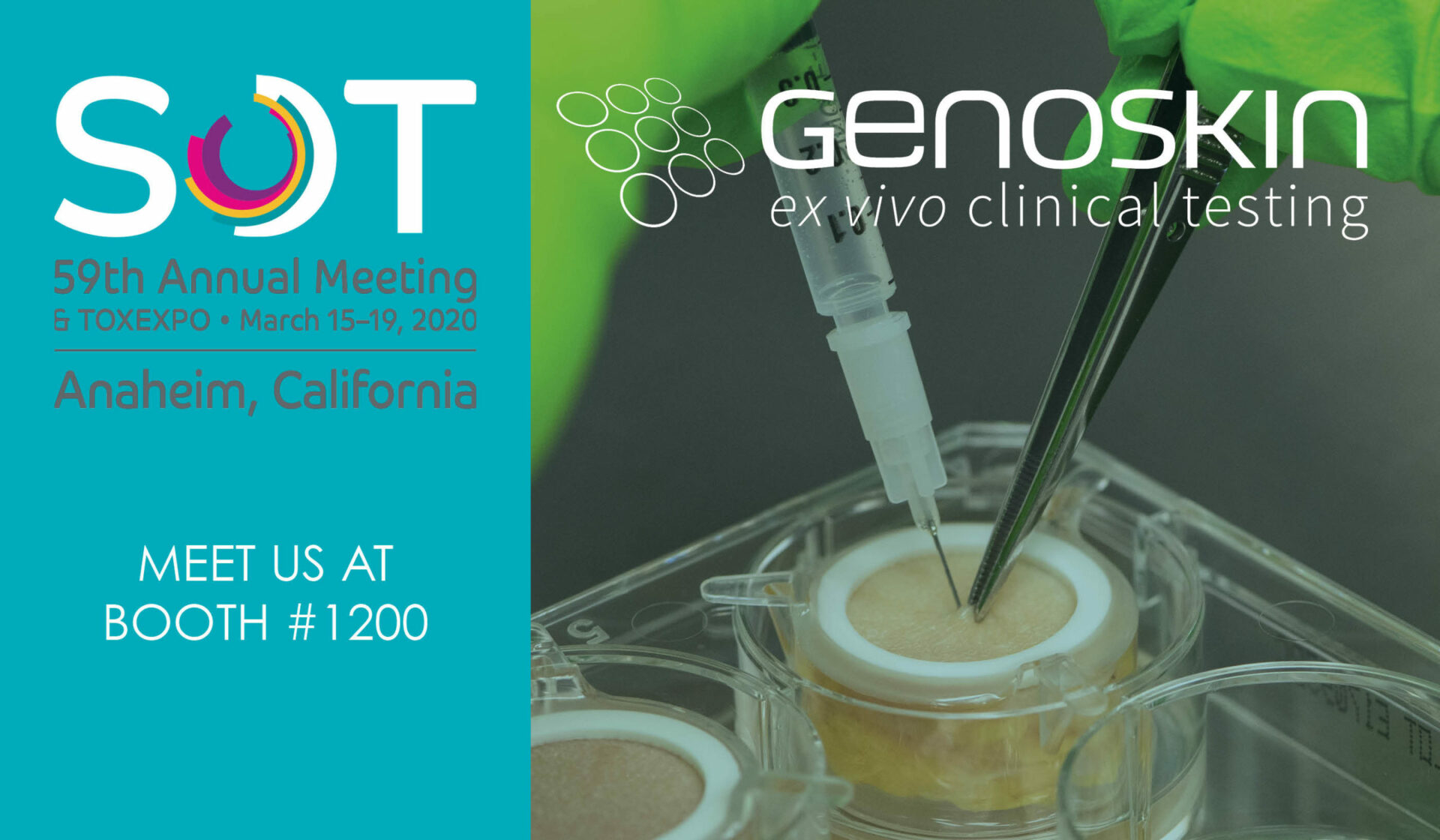 Join us at SOT2020!
Genoskin team is getting ready for the SOT2020 Annual Meeting and ToxExpo next month in Anaheim, CA.
Our skin experts, Yolaine Robitaille, Field Application Director, and Eric Merle, CCO are excited to meet you at booth #1200. Take the opportunity to come by and learn more about how our ex vivo human skin assays predict injection site reactions. And if you haven't registered yet, we are happily giving away our last full conference pass, see details below.
SOT2020 preview, toxicity testing with HypoSkin®
Genoskin developed, characterized and validated an accurate biological model to predict the toxicity of compounds injected in the subcutaneous tissue. HypoSkin® is the first and unique, highly predictive and ethical human model to replace animal testing. HypoSkin® is a real live human skin model with normal subcutaneous tissue architecture and shows presence and activity of macrophages.
To validate the relevance of HypoSkin® for toxicity testing, Genoskin's research team injected a pro-inflammatory cocktail composed of TNF and LPS in the biopsy. Results showed that, after 24 hours, the injection induced dermal collagen degradation and mild vacuolization in the epidermis. Increased synthesis of pro-inflammatory cytokines such as IL-6 and IL-8 was also observed and RNAscope analysis revealed strong expression of genes encoding for those cytokines in leucocytes, fibroblasts, adipocytes and endothelial cells of the epidermis.
HypoSkin® is a unique human ex vivo model with hypodermis attached, that allows for subcutaneous injection. It demonstrates the relevancy of this model to study the local effects of subcutaneously delivered macromolecules.
To learn more about HypoSkin® and how our hi-tech assays can be used for toxicity testing, swing by booth #1200 during SOT2020.
Win a full conference pass for SOT2020!

We are giving away one full conference pass for the next SOT Annual Meeting and ToxExpo in March.

Follow us on LinkedIn and Twitter. We will follow back and DM you to learn about your research. Each complete submission will be entered for a chance to win.

The deadline is Feb. 29th. Good luck!
To keep up-to-date with Genoskin's latest news, follow us on Twitter and LinkedIn. You can also contact us to learn more about our products and services.
Comments are closed.