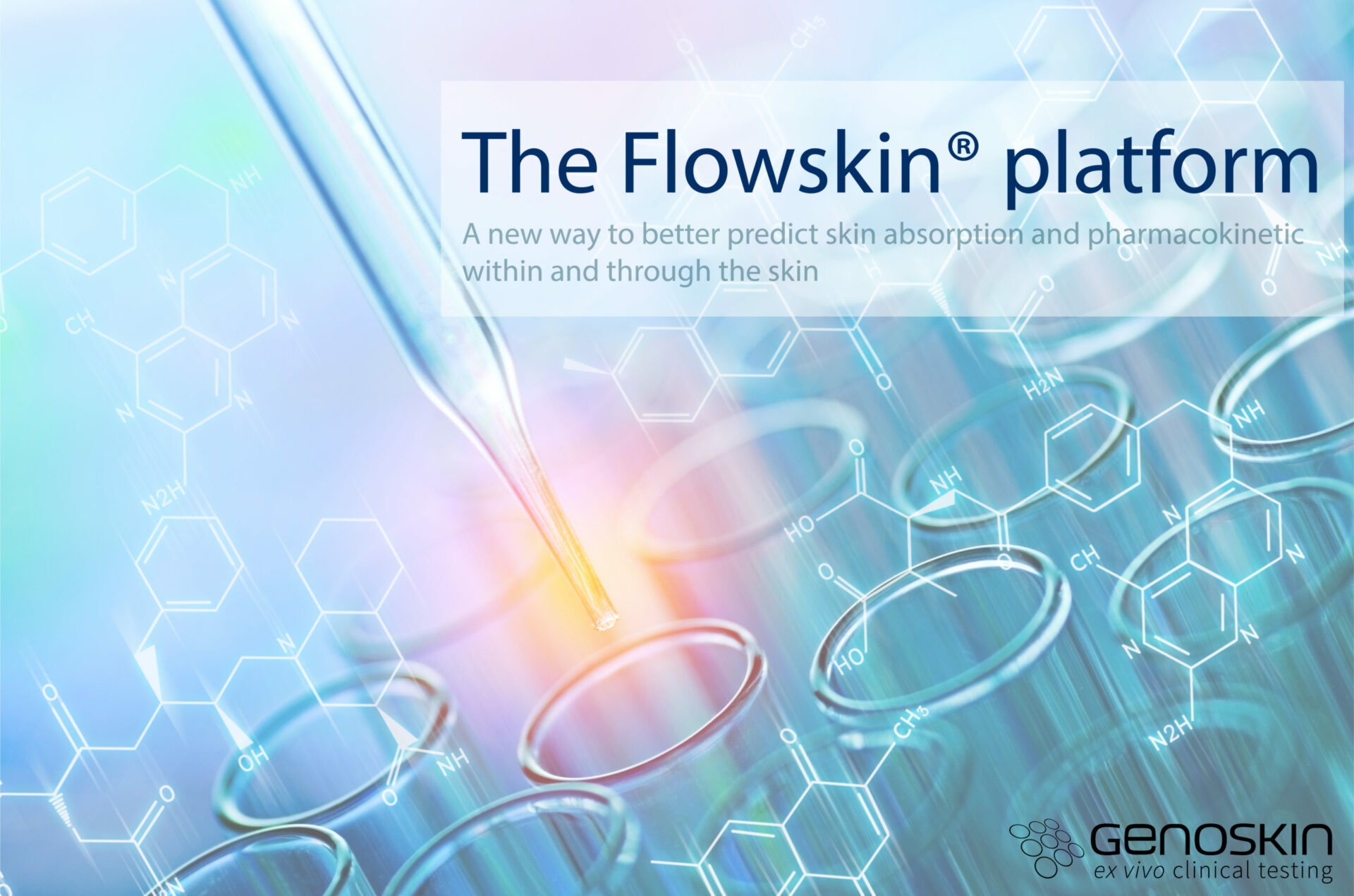 The FlowSkin® platform : a unique ex vivo perfused human skin model to test pharmacokinetic and systemic administration in human skin
When human tissue culture meets microfluidic technology, it leads to the first perfused human skin model ; an amazing platform to overcome the challenges of drug development and replace animal testing.
Almost 10 years ago now, Genoskin developed the 1st ex-vivo human skin model ; a fresh human biopsy kept alive for more than 7 days embedded in a patented gel matrix and medium of culture. This model presents the same physiological responses and characteristics as the human skin in situ.
However, the R&D department never stopped exploring. They kept looking for better solutions to improve the model and facilitate even more the development of safer products and drugs with an idea : being able to reproduce certain essential aspects of the cutaneous microcirculation in an effort to better answer the current challenges of drug development worldwide.
One of these challenges is to be able to understand how a molecule diffuses within the skin or through it. As for now, Franz diffusion cells method is the gold standard in vitro method to obtain such a response for topically applied formulations. However, even if a passive skin barrier is maintained when frozen or fresh skin is mounted in Franz cells, tissue structure and cell viability are lost within 24 hours and metabolic as well as immunological activities are not maintained.
Understanding skin absorption is also a challenge for biotech and pharmaceutical companies who develop biologicals that are injected in skin.
Finally, these companies need also a way to better predict cutaneous reactions to a systemic drug. It is absolutely necessary to improve the treatment tolerance, enhance the compliance and therefore, the efficacy of such treatments.
Pushing back the limit of ex-vivo human skin model with a perfused model
As an innovative company Genoskin thrives on teaming up with research labs to go beyond what we already know about skin, how to keep it alive longer and basically, how to improve our models.
This time, Genoskin's team partnered with Dr. Laurent Malaquin's team from the LAAS and CNRS, a world recognized expert in microfluidic, to develop a unique platform that would mimic even better the biological environment of skin in its own medium.
In the history of skin models, researchers went through monolayer cell cultures then reconstructed and now 3D printed models to mimic as much as possible normal human skin homeostasis, while Genoskin finds the best way to transform human skin leftovers from plastic surgeries into a standardized and reliable human skin model. 
The difference between these approaches is huge but can be quickly described :
Ex vivo skin models from Genoskin are made out of

real human skin

They provide

physiological responses

, reacting the same way skin reacts on the human body.

body.
Nevertheless, the main limitation is that the system is a static culture in opposition to what is seen in vivo.
A biomimetic vascularization system
The aim of the FlowSkin® project was to develop and characterize a perfused ex-vivo human skin model.
The perfusion would allow a better circulation of compounds within the skin model along with improving the disposal of biological waste.
This project presented 3 main challenges :
set-up an intra-tissue circulation within the explant without compromising the skin sample,
develop an analytic method to measure component diffusion within the explant,
being able to determine how we could efficiently diffuse components inside the explant without damaging the tissue and reduce its lifespan.
The FlowSkin® perfused model
Below is a representation of the FlowSkin® platform, using our best-seller model, NativeSkin®, a model offering both functional epidermis and dermis. Our HypoSkin® model will be integrated to the platform soon.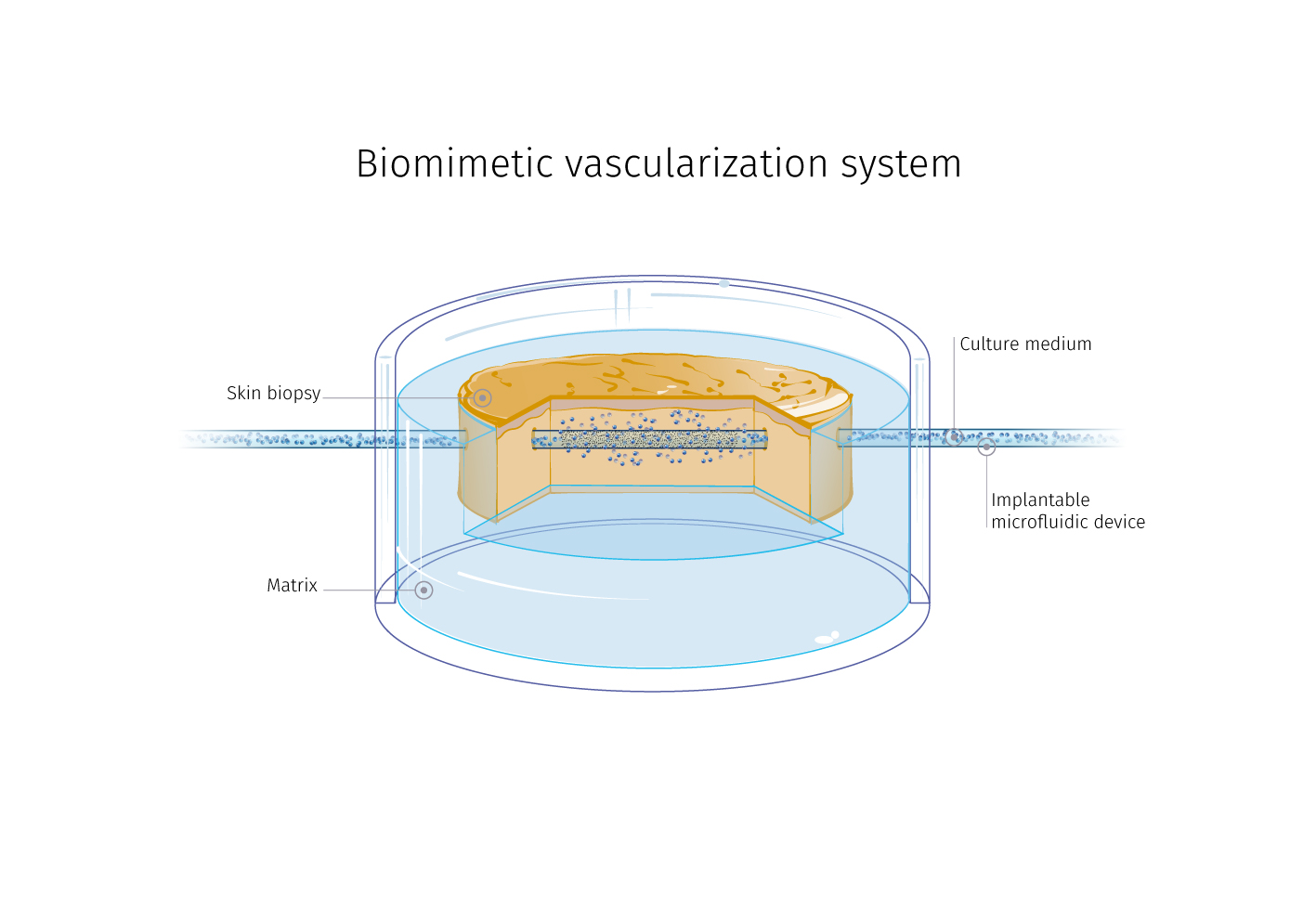 The perfusor device chosen allows large molecules, like monoclonal antibodies, to diffuse efficiently within the skin compartments.
The outgoing flux can be collected on the opposite side of the perfused model and can be analyzed to investigate pharmacokinetic and metabolic transformation of topically applied or injected drugs.
Measurements of the impact of the model perfusion shows that our new model is totally viable and ready to be used.
The metabolism remains the same as in the NativeSkin® model as well as the lifespan of the model in assay conditions for more than 7 days
The application of the FlowSkin® platform
FlowSkin® is a full platform that allows us to inject or apply topically any pharmaceutical and then study and modelize drugs pharmacokinetic inside the skin.
But we can even go beyond that with a model that can mimic the systemic administration of drugs. And not only chemicals or peptides but also heavy drugs such as monoclonal antibodies or recombinant proteins.
Studying continued diffusion of biotech pharmaceuticals within the skin could help prevent a fair amount of adverse effects with 2 direct effects :
– Improving the patient compliance to the treatment and thus its efficacy
– Saving lots money by better selecting safest components at the early stage of pre-clinical studies
And this is only the beginning of the FlowSkin® platform adventure which still has a lot of potential ahead.
To be continued…
An innovative project backed by EU and Région Occitanie funding
The unique FlowSkin™ research project has received the support from the European Regional Fund Operational Programme. The total budget to undertake this research amounts to over 600,000 euros. The project is expected to reach completion by 2020.


Comments are closed.